Georgian citizens support Ivanishvili's Cartu Bank
By Salome Modebadze
Friday, November 4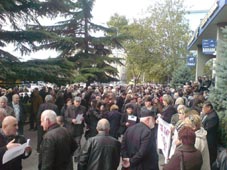 Thousands of citizens have opened accounts at Cartu Bank to express their moral support for businessman Bidzina Ivanishvili. Standing in long queues at Cartu Bank branches in Tbilisi or standing in the central office at Chavchavadze Avenue early on November 3, people expressed their support, sometimes filling out the forms standing in the street.
The support campaign started a few days ago when certain corporative clients closed their accounts at Cartu Bank. Having been the first to demonstrate his solidarity, Davit Maghradze-- poet and prominent public figure--encouraged his friends and compatriots to express their opinion. "It's our obligation to prove that Georgian society still exists!" Magradze exclaimed. Opposing the organizations which have closed their accounts at Cartu Bank, Magradze expressed his confidence that representatives of those institutions could individually express their support to the bank.
Having heard from TV or through social networks about the gesture of solidarity, people in many regions of the country stood in front of local Cartu Bank offices till closing on Thursday expressing their support towards "the honest man" as they call Bidizna Ivanishvili, founder of Cartu Bank. "Ivanishvili is an amazing phenomenon which has managed to stop time and take us to another dimension," one elderly lady said, hoping for a "miracle".
Accusing the Government of injustice towards Ivanishvili, ordinary citizens were encouraged by representatives of NGOs and other public figures. Actors Merab and Nika Tavadze said it was the obligation of every Georgian to stand together with Ivanishvili for his great merit for the entire country. Everyone expressed their discontent towards the existing political pressure against the businessman who recently took his first steps in the political arena.
"I have come here today to oppose to the confrontations against Bidzina Ivanishvili's Cartu Bank and to open my modest account in their favor," one citizen stated. Nodar Javakhishvili, General Director of the Bank, expressed his gratitude towards supporters, stressing that their moral encouragement means even more than the financial support.