Ivanishvili Interview
By Gvantsa Gabekhadze
Tuesday, November 8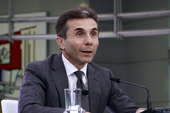 "We should not defeat Saakashvili, we should make the country to win" – Georgian billionaire, Bidzina Ivanishvili stated in his exclusive interview with
Kviris Palitra
newspaper, on November 7. He has one more time fixed his position regarding his political views and talked on the issues Georgian society is mainly interested in- how does he intend to come to politics without Georgian citizenship? As it is became known, certain decisions already exist concerning the issue.
Ivanishvili's son Uta Ivanishvili may become a member of the businessman's future party.
"We will set up a public movement on November 25. I have a right to this even as a citizen of France. A few days later we will set up a political party, but I will not be a member of the party. My close relative, maybe my son, will be a member of that party. However, I don't want Uta to be actively engaged in politics. I just want the surname of Ivanishvili to be associated with the party and to solve the issue of funding of the party this way," Ivanishvili said.
As it seems Ivanishvili does not have illusion President Saakashvili to grant him citizenship, however, according to him it will not significantly change the situation.
As for with whom he might unite or collaborate, the businessman, said that," We will set up some kind of union with the Republican Party and Irakli Alasania's party( Our Georgia- Free Democrats) We are also going to cooperate with the entire opposition. However, we are not going to set up a union with all of them. I don't think it is necessary." At the same time, he stated that street rallies which are planned or would be planned in the state , will be in the authorities interest and mainly organized by them." On November 7 , Shalva Natelashvili( leader of Labour Party ) plans to push people in the street , however this is not Natelashvili's game, this is Saakashvili's game." Ivanishvili also plans to collaborate with those figures, which were in the Government," we are going to use all Georgians, those professionals which were and are in Saakashvili's Government, we have no Georgians to lose." Thus, he does not excluded collaboration with former Parliament Speaker and now the leader of opposition Democratic Movement – United Georgia, " despite definite differences in the ways one can change the present Government and if we manage to agree on our positions."
Ivanishvili, who emphasizes the importance of changing the government through elections and not street rallies , stated that the upcoming elections would reveal " the real face and weakness of the National Movement." He is sure that the National Movement will get an insignificant vote, due to the " anti state and anti people" actions carried out by the current authorities , that it will be impossible for them to falsify elections to win them , however, in case such a scenario takes place ," I will definitely defend the votes without some dramatic developments" . Georgian people are sensible and everything will be carried out in the frame of law." Ivanishvili believes he manages to secure his future victory even in a very critical situation," as unlike from the current Government of Georgia, which doesn't know how to behave in critical situations , as was revealed during the August war , which demonstrated complete failure of their management , I know how to mobilize in such situations."
As for foreign policy, Ivanishvili one more time fixed his pro west course and mentioned that NATO has no alternative for Georgia. . "Unfortunately, Mikheil Saakashvili made NATO [membership] a very faraway prospect. The North Atlantic Alliance deems not only the defense partnership, but irreversibility and strengthening of democratic processes as a cornerstone of our partnership. But Georgia made steps backwards."
"Cooperation with NATO is a priority for us. Our goal is to further deepen this cooperation through fostering development of democratic institutions."
"We will work very actively in order to join NATO, because there is no alternative," Ivanishvili added.
Regarding Georgian – Russian relations and the August war. Ivanishvili said that he fixed his position only after the international community stated that the war initiator was Georgia and after the Georgian government supported the resolution made by Heidi Tagliavini, " when the whole world knows the reality , why are Georgian people in the dark? In such case, I of course say the truth and remind the current Government their mistakes."
Ivanishvili made a special appeal towards Georgian media and law enforcement structures' representatives, to be objective and act based on the state interests.
As a majority representative state, they can't see the rival in Ivanishvili, as "he is the problem of the opposition and not of the Government," Shota Malashkhia , said. They continue to claim that Ivanishvili is" Russian project "and that Georgian people will never support the person, who undertakes the interests of the enemy state. ," his statements stating that Georgia started the war with Russia and that we are to blame for the economic blockade definitely reveals that he is a Russian project ," fellow majority member , Nugzar Tsiklauri , said . thus for the Government , Ivanishvili " is the enemy of the state."
Based on analyst Mamuka Areshidze, Ivanishvili's statements were adequate and acceptable for him,"Ivanishvili's response on NATO was a bit obscure, however absolutely acceptable for me, as giving some promises beforehand is useless, as it is difficult to make some definite statements now, based on the reality." As the analyst mentioned, it can't be excluded that Russia could be a NATO member or the organization might not to be the kind it is now, in several years," as more Chinese influence will be increased on Euro- Asian space and more eager the federation will be to participate in NATO. The analyst also mentioned that Ivanishvili would not have started abuse of Vladimir Putin," it is difficult to imagine that Putin will carry out some democratic reforms , however he will have to make some changes , as he sees that the state might be destroyed , Ivanishvili, who states that restoration of relations with Russia is important , would not have abused Putin, as it would be very undiplomatic step . Russia is occupant, that's true however, if you want to improve the relations you should give up abuse."
As analyst, Gia Khukhashvili told
The Messenger
," there is nothing unusual in Ivanishvili's statements that he intends to collaborate with all opposition political forces, collaboration means talking with them , sharing of some views and so on, it does not mean unification with them. Speaking with opposition and with the Government is important," the analyst, said and mentioned that regarding Burjanadze , Ivanishvili said that he has some questions, maybe those questions are about the May 26 street rally," its is a very ordinary political process, more assessments can be made if Ivanishvili decides to unify with Burjanadze, which to my mind is excluded."