Ruling Party Meets
By Salome Modebadze
Tuesday, November 8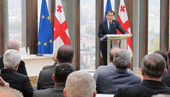 Georgian President Mikheil Saakashvili met with the ruling United National Movement (UNM) MPs at his administrational palace on November 7. The President discussed the details of the state budget for 2012 which according to Saakashvili is targetted on economic development in the country by implementing new projects. Talking of the hard economic situation in neighboring countries Saakashvili welcomed Georgia's increasing economy and made an optimistic forecast.
Sharing the "revolutionary" plans for 2012 the President spoke of the importance of promoting the regions as one of the important preconditions for the country's development. Promising to make 2012 a year of innovative touristic infrastructure Saakashvili announced that the government would open at Tetnuldi a new resort in Mestia together with the French partners which is worth GEL 70 million. Promising lots of infrastructural surprises, the President called 2012 the year of "great hydro electric stations" and announced that construction of several stations would be actively started from the next year.
The increase of pensions and improvement of health insurance system for socially unprotected people has also been considered by the government. The President said that despite the negative global background Georgia should attract the investors who are constantly leaving the other countries. Welcoming the nonexistence of corruption and the high level of security in Georgia, Saakashvili stressed the necessity for preparing qualified staff who would manage to increase Georgia's economic potential. For this reason the President emphasized the necessity of specialized technical schools responsible for bringing up educated students.
Announcing that the first Parliament Session would be held in the new Parliament building on May 26, 2012, Saakashvili stressed that from that day the Georgian legislative body would permanently move to Kutaisi in Imereti region. Ruling party MP Goka Gabashvili stated the budget 2012 follows the 10-Point strategic development plan which according to the MP unites important socio-economical and infrastructural issues. "We have summarized the topics which have been dealt with in the country but there are still lots of problems which need to be solved," ruling party MP Petre Tsiskarishvili stated. Zurab Melikishvili Chairman of Budget and Finance Committee approved of the new budget stressing that the Parliament would support all the infrastructural projects emphasized by the government as important issues.