UNDP Report
By Ernest Petrosyan
Wednesday, November 9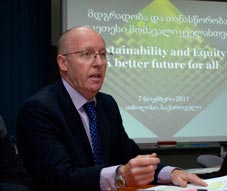 Head of UNDP in Georgia Jamie McGoldrick presented the Human Development Report 2011 in the UN House in Tbilisi on November 7.
"Georgia is in the high human development category and holds the 75th position out of 187 countries and territories. Georgia's Human Development Index increased since last year. However, there are still some areas of concern, such as poverty and gender equality," McGoldrick told the journalists.
"This year's Human Development Report identifies pathways for people, communities, countries and the international community to promote environmental sustainability and equity," he went on to say.
The Report highlights the Human Development Index (HDI) which represents a summary of three basic dimensions of human development: a long and healthy life, access to knowledge and a decent standard of living.
According to the report, Georgia's HDI value for 2011 is 0.733 which positions the country at 75 out 189 countries and territories. Georgia's HDI has increased by 4.0% between 2005 and 2011 from 0.707 to 0.733.
As the report reads, the average life expectancy in Georgia in comparison to 1980 year has increased by 4.1 years and makes 73.7 years. The years of schooling have increased by 0.2 years, rising from 12.9 to 13.1 years. The gross national income per capita has increased to USD 4,780 per capita annually. In comparison to 1995 this figure has gained by 192%.
Nevertheless, the Gender Inequality Index in Georgia remains the highest of the three Caucasus countries, due to low representation of women in the parliament. According to the Report, in Georgia women hold only 6.5% of the parliament seats. This figure makes 16% in Azerbaijan and 9.2% in Armenia.
The Human Development Index is based on the data of UN human population division, UNESCO and the World Bank. To assess the HDI progress dynamic throughout the years, the Report contains indexes from 1980 to 2011.