The President's Tuesday Briefing
By Salome Modebadze
Wednesday, November 9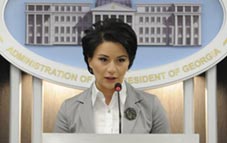 Manana Manjgaladze, Spokesperson for President Mikheil Saakshvili stressed the importance of the visit of the NATO Delegation at the traditional Tuesday briefing. The Head of delegation Secretary General Anders Fogh Rasmussen will hold meetings with President Saakashvili and Prime Minister Nika Gilauri on November 9-10.
Announcing that Georgian-Russian negotiations on Russia's entry to the World Trade Organization (WTO) are in the final stages, Manjgaladze explained that only technical-procedural issues need to be solved between the sides. "Georgia has supported a very good compromise offer from Switzerland after very hard negotiations," Manjgaladze said stressing that the offer was practically the same as the initial position Georgia had from the very beginning of the process.
Calling it "a victory of Georgian diplomacy" Saakashvili's spokesperson welcomed the accessibility of the full data about the turnover and other economic issues at the Georgian-Russian boundary. "Despite long hesitation Russia agreed to such terms," Manjgaladze said stressing the importance of the data availability for the International Community.
The state budget for 2012 was among the main issues discussed by Manjgaladze. Calling it "a budget of employment and modernization" the President's spokesperson referred to the main issues of the state financial document which would be the subject of discussion at Tuesday's briefings before its final affirmation. The state budget together with the 10-point governmental strategic plan would, according to Manjgaladze deal with the main socio-economic problems in the country.
Promising to discuss all the issues of the state document from the agricultural sector to the regional infrastructural projects, the President's spokesperson said that society would also be engaged in discussions. A 7 billion 673 million state budget for 2012 has already been introduced to the Parliament. Having increased by 322 billion the money would be used for various important projects in the agricultural sector, education and healthcare systems. Stressing that part of the regional projects have been successfully finished Manjgaladze welcomed the innovative initiatives the government plans to carry out for creating new jobs for the local people all around the country.