Georgian Republican Party Conference takes place within a changing political landscape
By Gvantsa Gabekhadze
Thursday, November 10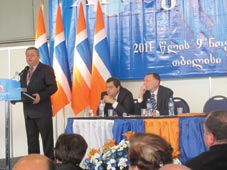 Party leader Davit Usupashvili told the Convention of the Republican Party on November 9 that they would soon be a participant with a serious political process. As expected, one of the main issues of the Conference was the Party's collaboration with the Georgian politician Bidzina Ivanishvili and another opposition party, Irakli Alasania's Our Georgia- Free Democrats. He underlined that "a very serious process" would be launched soon and that "many problems would have to be overcome".
"The authorities have recognized that Ivanishvili is a lethal force for them and that's why there will be a lot of obstacles to overcome. There is a high probability that before the end of the year we will be involved in some serious work."
Usupashvili reminded the audience of the problems created for their Party over the last two years. In particular he brought up the painful decision for them to shut down regional offices because of financial problems. "The government managed to remove all our sponsors. I congratulate the National Movement, but they failed to reach the most important aim – to weaken the Republicans' efforts".
The Party convention will elect new leadership by electronic vote with delegates from Tbilisi and other regions taking part. The electronic system is the first in Georgia and a new computer program was created specially for the occasion.
Other issues were raised by party members such as the need to respond to concerns about Ivanishvili's statement that he was ready to collaborate with former Parliamentary Speaker and current leader of opposition Our Georgia- Free Democrats , Nino Burjanadze--if she responds to his questions on some issues, and if there is a common agreement.
However, a member of the Republican Party, Levan Berdzenishvili, pointed out that no unification with Burjanadze has ever been mentioned by Ivanishvili "In a coalition where there would be Republicans, Free Democrats and the political force formed by Bidzina Ivanishvili, there would be no place for Burjanadze and I think that Ivanishvili would agree on that," Berdzenishvili said. He underlined that it still hasn't been decided on whether the unification of the three forces will be called a "block" or a "coalition".
The ruling majority party keeps insisting that "Kremlin-orchestrated attempts are underway in Georgia to create "a new pro-Russian political center" around billionaire-turned-politician Bidzina Ivanishvili" as they try and connect Ivanishvili's statements affirming international analysts' reports that Georgia launched the first attacks and their own "insensible actions" that resulted in economic embargos. Ivanishvili's statement that he is ready to collaborate with all political parties, including Burjanadze , has been taken as one more sign by the majority leaders that Ivanishvili is the last hope for Moscow, the "project of Russia".
According to analyst Ramaz Sakvarelidze, "There was nothing to be surprised about in Ivanishvili's statement regarding collaboration with Burjanadze, as it is clear that Ivanishvili wants to unite the opposition spectrum strategically. He is familiarizing himself with their abilities, looking for their pros and cons to draw conclusions. Ivanishvili should try and transform Georgian society from one political reality to another with as little loss as possible."
Sakvarelidze shares the opinion that some very serious process might take place: "There are some serious moves ahead." The analyst considers that regular claims from the authorities that Ivanishvili is pro-Russian poses even more questions towards the Government, while Ivanishvili has been trying to keep insults to a minimum. "If, as the authorities claim, Ivanishvili is Putin's man, why did they accept his money for so many years?"