Bidzina Ivanishvili discusses Georgia's political situation with civil society
By Salome Modebadze
Thursday, November 10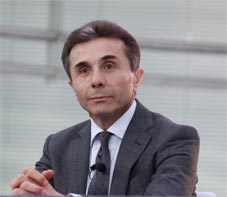 Bidzina Ivanishvili's Press Center summarized the businessman's meeting with NGOs and the civil sector in a special statement on Wednesday. Stressing that the November 7 meeting--initiated by the businessman—had been valuable for both sides, the Press centre welcomed the fact that many burning issues had been raised. Human rights protection was a central point of discussion, important for the country, and for which civil society should mobilize the public.
The leader of the new political movement said he doubts human rights concerns can be solved without creating a control mechanism, either under the current or the future government. "That's why civil society should draw everyone's attention to this problem," the statement read. According to Ivanishvili he and his team will work with the civil sector to implement important human rights protection projects very soon.
Ivanishvili promised that the Movement Georgian Dream, officially to be presented on November 25, will promote human rights and restore a sense of justice to Georgians. Some of these include creating a mechanism for releasing political prisoners; assuring legal protection for people engaged in creating new movements; and implementing legal and social programs for assisting prisoners.
Having met with NGOs at the Courtyard Marriot Hotel on November 7, Ivanishvili said he was ready to cooperate with the civil sector to study the environment of elections, realize how to enforce the law and how to demand that government be responsible to the people. Accusing the government of intimidating people, Ivanishvili said he would encourage citizens to be more vigilant about illegal activities in Georgia in order to "weaken the repressive machine". "I met with people who will help my team reach our targets," he said, referring to the NGOs and civil sector representatives.