NATO's Secretary-General Rasmussen addresses Georgian troops and encourages future membership
By Ernest Petrosyan
Friday, November 11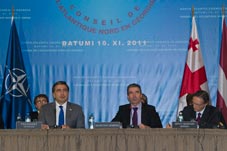 "During the Bucharest Summit in 2008 we said that that Georgia will be a member of NATO. I supported that decision then--I support it now. That decision stands," said NATO Secretary General Anders Fogh Rasmussen at the closing press conference of the two-day NATO-Georgia Commission session, this time in Batumi, with Georgia President Mikheil Saakashvili.
"Our visit to Georgia is a clear demonstration of our commitments to Georgia, and of your country's importance to NATO. We will continue to support you on your path to the Alliance," said Rasmussen. "As you progress for reforms, you also progress on your path to NATO membership. You have advanced significantly since 2008 and you are closer than three years ago, thanks to these reforms," he said.
President Saakashvili stated that Rasmussen invited him to the Brussels North Atlantic Council (NAC) session . "Such relations are key, and of course it makes us happy," Saakashvili said. Later both officials held a press conference where the Secretary General highlighted Saakashvili's pledge not to apply any type of force to Georgia's breakaway regions of Abkhazia and South Ossetia. "The only way to resolve these conflicts is through dialogue, not confrontation," said Rasmussen.
The Secretary General referred to achievements in economic and democratic development. However he said much is still to be done, again putting the accent on future parliamentary and presidential elections. "Georgia has come a long way in the past eight years, but there is still some way to go. In particular, to perfect your electoral reforms it will mean having an electoral code that guarantees fair treatment for all candidates and all voters. It means creating political cultures that respect and tolerate minority views, and it means guaranteeing the freedom of expression of media and of the judiciary," noted Rasmussen.
Earlier in the day Secretary-General Rasmussen met Georgia's 33rd infantry battalion, which had just returned from Afghanistan the same morning to the Vaziani military base. Giving a short speech to the battalion, Rasmussen thanked Georgian soldiers for their contribution to the Afghanistan operation and underlined the importance of their participation in the Afghan peace mission. He said that nearly a thousand Georgian troops are doing an enormous job to stop Afghanistan becoming a shelter for terrorists and extremists.
Rasmussen told the soldiers, "You, members of the 33rd Light Infantry Battalion of Georgia, have done a great job. Your duties in Helmand province were particularly demanding, but you met that challenge successfully and displayed exceptional courage. You are not only a credit to your Battalion and your Brigade--you are a credit to your entire country."
The NATO Secretary-General said that participation in International Security Assistance Force ISAF operation is a key part of Georgia's preparation for NATO membership. "Not only have you helped Afghanistan to stand on its own feet, you have also helped Georgia move closer to Alliance membership. This is another reason to be very proud," he said in his address to the soldiers.
Rasmussen spoke to them about the perspectives for relations between Georgia and NATO, noting that the readiness of the Government of Georgia to take part in ISAF operations, sending additional troops to Afghanistan, will make Georgia the largest non-NATO contributor, for which NATO is extremely grateful.
According to the Georgian Defense Minister, Bacho Akhalaia, Georgia will send another battalion to Afghanistan next year in addition to the 950 soldiers already serving in the NATO-led operation, most of them in the Helmand province.
Concluding his speech, Rasmussen paid tribute with a minute of silence to the Georgian soldiers killed in Afghanistan, those who paid the highest price in this endeavor, voicing hope that their sacrifice will not be in vain.
Then Rasmussen met David Bakradze, Chairman of the Georgian Parliament, continuing the second day of his official visit to Georgia. "We hope the Chicago Summit will be another possibility to illustrate progress in Georgia-NATO relations, and that there will be another step forward to membership," stated David Bakradze at the joint briefing with NATO's Secretary-General. He added that this is not a unilateral route--that Georgia has much to do as it approaches the Alliance. "Georgia's development and the formation of a strong democratic, European state, increasing democracy and economic reforms, are preconditions for Georgia's entry to NATO," Bakradze said, and continued, "After the Bucharest Summit many practical factors have changed in our relations. Now we have all the elements necessary for successful relations– an annual plan of cooperation, the NATO-Georgian commission, which is a significant political element on the road to membership--and we have the obligation and desire to become a NATO member."