Visas and Trade on Agenda as EU High Representative Visits Georgia
By Ernest Petrosyan
Thursday, November 17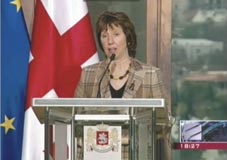 The European Union's High Representative of the Union for Foreign Affairs and Security Policy, Catherine Ashton visited Georgia within her South Caucasus regional trip Wednesday. During her visit, Ashton held discussions with Georgian President Mikheil Saakashvili and Foreign Minister Grigol Vashadze regarding launching negotiations on a deep and comprehensive free trade agreement and further visa facilitation between the EU and Georgia. She will also meet the Head of the EU Monitoring Mission in Georgia (EUMM) Andrzej Tyszkiewicz.
President Saakashvili, at the joint briefing thanked the EU for supporting Georgia's sovereignty and territorial integrity, and the support from the EU regarding Georgia's integration into international organizations. Saakashvili expressed hope that negotiations on free trade and a visa free regime with EU will be over earlier than the designated time. He also said that after the negations, Georgia will have a free trade regime with EU member states and a visa-free regime for all citizens of Georgia.
"Everyone must acknowledge that this will not be decided in a day and it needs time," the president said and emphasized that any possible negative sides of a visa free regime with the EU were low risk in case of Georgia. "Our task is to enable all citizens of Georgia to enter EU member states without a visa. I want to remind everyone that in recent years more people return than leave. We don't' expect Georgians to run to Europe and Georgia will be emptied, as what happened in the case of some new EU member states. In our case, I think this is more a possibility for Georgians, to travel, widen their world outlook", the president said.
The EU High Representative also thanked Saakashvili for supporting Russia's integration into the WTO. Ashton declared during a press conference after a meeting at the President's Residence that it is of the utmost importance for Georgia and the EU's population. For her as the former EU commissioner for trade, it is pleasant to see such huge progress in this field. She said that the EU has expectations that things will progress. She says that Russia's WTO membership is a chance to develop trade relations that will benefit everyone.
Referring to the talks over the free trade agreement she did not specify an exact date but she however said that the discussions will take place in spring. "I know the progress that has been achieved and we welcome this. Technical discussions will take place in spring. I hope we'll see important progress. It is a good prospect when the most important aspects of our relations advance, but at the same time we must speak about our cooperation throughout the region, about issues of our common interests, regarding not only the neighborhood and the region, but the world", Ashton said.
As for further visa facilitation Ashton noted that visa access should become easier for students, scientists and businessmen to bolster the cooperation among them.
A day before Ashton's arrival Georgian Foreign Minister, Grigol Vashadze, said on November 16, that talks on EU-Georgia Association Agreement had entered a decisive phase. "The negotiations on the deep and free trade agreement will definitely open before the end of this year," he told Rustavi 2 and added that the launch of talks on visa liberalization would happen in the nearest future.
After talks in Tbilisi, Ashton will visit Yerevan, before heading for Moscow, where the EU-Russia Permanent Partnership Council will be held on November 17-18. This was already her second visit to Georgia.