Gilauri Discusses German and Georgian Experiences of Russian Occupation
By Salome Modebadze
Thursday, November 17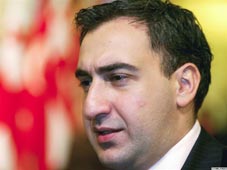 Prime Minister Nika Gilauri delivered a speech at the German Council on Foreign Relations (DGAP) on November 15. Sharing the information about the Georgian investment environment, reforms and political situation in the country, the Georgian PM emphasized the importance of Georgian-German relations. Considering Germany as a country supporting Georgia to integrate into NATO and the international community, Gilauri spoke of the similarities between the two nations.
"Because this is the nation and the country with a very similar history and problems we are having nowadays," said the PM recollecting how 20 years ago Germany was actually divided into two parts against the will of the German nation. "It was not the German people who decided either to go to east or to west - it was a form of occupation from the same Russia, which is now occupying 20% of Georgian territories," Gilauri stated. Gilauri also worried that family members can't see one another because of the Russian troops dislocating the breakaway regions of Abkhazia and South Ossetia. The PM also recollected how the entire world supported Germany and managed to unite its parts.
Georgian-German officials discussed the liberalization of the visa regime and the simplification of traveling terms and conditions for IDPs living in the Georgian occupied regions. Having received great appreciation for the reforms carried out by the government in the country, the Georgian PM discussed the changes at the law enforcement agencies with Hans-Peter Friedrich the Minister of Internal Affairs of Germany. Expressing the will to visit Georgia and personally see the results of the reforms the German Minister supposed it would be an interesting experience for a European country like Germany.