Draft Budget for Tbilisi Draws Withering Critique
By Salome Modebadze
Thursday, November 17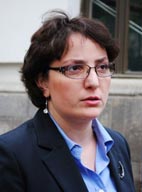 Tina Khidasheli Republican member of Tbilisi City Council called the capital's budget projection for 2012 "corruptive". At a briefing held on Wednesday, Khidasheli spoke of the problematic issues she found in the financial document. By drawing attention to the most incendiary paragraphs, Khidasheli demanded the rejection of the draft by Tbilisi City Hall and advised the Mayor's Office to prepare a new adequately developed draft with the relevant financial calculations. Otherwise, Khidasheli suggested that the financial document would allow the officials to use the budget for carrying out a pre-election campaign.
Worrying about the "secret and vague paragraphs" of the budget the councilwoman said the City Council members had not seen such a "corruptively dangerous" financial document for years. As Khidasheli stated around 53% of the budget had been allocated for events and occasions which was simply incomprehensible. GEL 144 million for so-called "other expenses" and GEL 193 million for non-financial expenses from the GEL 648 million budget amounts to almost half of the entire budget, she said.
Khidasheli claimed that the government must have considered the high risks of the upcoming parliamentary electoral year, and thus avoided writing particular amounts of money for individual programs. This was ironic according to the Republican MP as the government had earlier proclaimed the necessity to make an adequate calculation for all projects considered for the budget in 2012. Moreover, recollecting how the government had been encouraging citizens to plan the budget of the capital together, Khidasheli doubted that the people would have recommended that the authorities decrease the budget for social programs.
Tamaz Shoshiashvili City Council member from ruling United National Movement (UNM) advised Khidasheli to familiarize herself with the classification of the budget. Claiming that all the paragraphs have been relevantly considered in the financial documents, the UMN MP accused Khidasheli of jumping to preliminary conclusions. Stressing that Khidasheli was trying to mislead the public, Shoshiashvili explained the meaning of "other expenses" from an economic viewpoint.
The ruling party MP denied the rumors about decreasing the amount of social programs, saying it was quite the opposite. "I want to emphasize that the budget for financing social programs in 2012 has increased to 18 million GEL," he said stressing that the City Council would discuss the budget projections at the session on November 25. MPs would have an opportunity to make remarks around the draft document till November 20, while the City Assembly would confirm the budget projections on December 15.