Ilia Lake and Resort Complex Opened in Kvareli
By Messenger Staff
Friday, November 18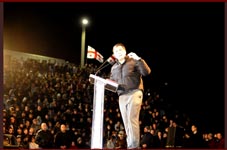 On November 16 President Saakashvili opened the rehabilitated Ilia Lake and resort complex in Kvareli district of Kakheti region in Eastern Georgia.
"We are with one hand fighting on the foreign front. Nobody should say that Georgia has lost something or any war. We will fight for victory until our hands are up. Here we are in the homeland of Ilia [Chavchavadze, Georgian writer and public figure of the 19th century]. The main political science for me comes from Ilia Chavchavadze," Saakashvili said.
He said there are several lakes in Kvareli, like Lopota, although it was agreed that no other name would suite a lake more than Ilia.
"In Ilia`s time Georgia was not independent. Russian soldiers stood here, like they are standing in Abkhazia and Tskhinvali, but he never doubted that Georgia should be free and independent. So what`s wrong with some Georgians today, to whom God gave a free republic, yet who still miss slavery, serfdom, a vassal`s state, subordination and instructions from somebody else? One may think that your country does not appreciate you or does not have you on the pedestal you deserve but this is not enough grounds for you to hate or sell your country; to reject freedom; to collaborate with the enemy and wag his tag, as there is nothing higher than freedom," the president said.
The president claimed that there has never been this kind of reconstruction in Georgia as it is going on now.
"This lake is the start of a new stage for Kakheti. Not because my agricultural plot is close by from here and I may like to ride a bike around here," he said adding that next year is going to be the year of Kakheti region and the government intends to implement a number of plans in the region.
According to Saakashvili huge construction works are planned for next year in all towns of Kakheti including Telavi, Lagodekhi, Sagarejo and so on. He pointed out the water problems in Kakheti and the rehabilitation works on this that are going on.