Ivanishvili Answers Pressing Questions in Live Conference
By Salome Modebadze
Friday, November 18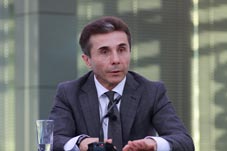 Businessman Bidzina Ivanishvili met with regional media representatives on Thursday. During a two-hour live conference Ivanishvili answered questions on the most burning issues for Georgian society since his entrance into the political arena. Supposing that he will succeed in the parliamentary elections in 2012 with an absolute majority (75% + 1) the businessman expressed readiness to widen his political team with new oppositional partners. Ivanishvili explained that they would even cooperate with Nino Burjanadze, leader of Democratic Movement – United Georgia despite her great unpopularity in society if she makes steps to be approved by more Georgians.
Ivanishvili, who has been politically oppressed since his entrance into the Georgian political arena, stressed he would keep all his promises. Encouraging society to vote for his team, the businessman accused the government of PR by distributing "shameful" financial assistances. Doubting that his team would manage to improve the social conditions of people immediately after their victory, Ivanishvili said they would make a "precise baseline" for achieving results in a couple of years.
Democratic institutions, the impartiality of the judiciary system, and the freedom of the media are the main strategies for development. Talking of exact economic legislation as the best precondition to improving the market economy and attracting investment, the businessman expressed his hopes that many Georgian emigrants would finally return to their country. "We Georgians are special people who can hardly live away from the homeland, I know that," Ivanishvili stated.
Talking of Georgians as gifted and diligent people Ivanishvili promised to encourage the creation of jobs for people. "I feel a special responsibility towards Georgian people thus I established Cartu Bank which should have encouraged the investment environment in the country. I managed to transfer 300 million dollars in Cartu as such an amount of money is so important for a developing country but there is no relevant investment environment in Georgia," Ivanishvili said criticizing Georgian President Mikheil Saakashvili's managerial policy.
Stressing the necessity for having export relations with neighboring countries Ivanishvili said his team would start "trying to settle cooperation with Russia" after they come to power through democratic and transparent elections. "We seem to have difficult negotiations but nothing is impossible," said the businessman. Promising to legally support each oppressed supporter, Ivanishvili stressed that the government "can't detain all of Georgia, moreover the international community will actively oppose the unruliness of the ruling power," said the businessman.
Counting on fundamental changes after legitimate elections Ivanishvili said his team would "answer illegality with law and strong will". Emphasizing the need for a national-diplomatic plan for returning Abkhazia and South Ossetia, Ivanishvili hoped that one day the two breakaway regions would finally return to Georgian statehood. "If we won't manage to do so during our governance, the next government will definitely succeed," he stated. Recollecting his appreciation for the Rose Revolution in 2003 Ivanishvili now worried that he made a great mistake at the presidential elections in 2004 by voting for Saakashvili. Admitting that he personally financed the new government the businessman explained that his step only aimed at encouraging the young authorities who received a much damaged state budget after Eduard Shevardnadze's governance. "I think I did the right thing for my country by saving the new government from the temptation of taking bribes through the normalization of the state budget," Ivanishvili explained.
Sharing his experience in the agricultural sector Ivanishvili stressed the necessity for creating self-governance responsible for encouraging farmers in developing local as well as innovative products. Worried about the poor conditions of the villages, Ivanishvili emphasized the importance of accessibility to credit for farmers, improvement of their educational level for preserving products as well as keeping domestic animals and so on.
"Unfortunately, the Georgian agricultural sector can't even satisfy the demands of the internal market and 70% of products are imported nowadays," Ivanishvili said stressing the role of local municipalities in solving elementary problems in individual regions. "This would encourage the establishment of a political elite in regions and make it easier for political parties to better coordinate among the villages," the businessman stated. Establishment of local municipalities would also encourage the coordination of ethnic minorities living all around the country, according to the businessman. "It's necessary to ensure the maximum integration of these people with the rest of Georgian society, thus regional self-governments would encourage them to feel part of their country - Georgia, which is the same homeland for them as for any other Georgians," Ivanishvili stated.
Hoping to restore Georgian statehood with its individual parts and sectors, Ivanishvili hoped to make Georgia a part of the international community with an adequate level of living conditions to European and American standards, not simply shallow and surface changes. Saying he would sell his business in Russia, Ivanishvili promised to invest money in Georgia as well as assist socially vulnerable people.