Tbilisi Fashion Week begins
By Messenger Staff
Tuesday, November 22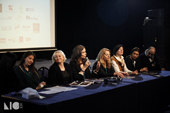 Tbilisi Fashion Week (TFW) will open on November 24 and will last until November 27.
Major fashion shows are being held at Tbilisi Event Hall and those interested may visit the Gratto Passage where showrooms and accessories exhibitions will be displayed. Overall 14 professional designers will present their collection
Seventeen newcomers will take part in Tbilisi Fashion Week; a jury will judge their creations and announce a winner.
For those who are not able to attend the catwalk shows
Akhali Arkhi
will broadcast each show later next week.
Organizers of TFW also have talked about the financial crisis. According to Tako Chkheidze one of the organizers, there was a certain threat of the show falling through however sponsors and partners have also managed to come through and carry out another fashion week for this year. "It is not a secret that there is a financial crisis on the market and we also depend on our sponsors. We have number of partners who stands with us and we are glad that this show will take place," Chkheidze said.
Guests from Paris, Milan, London and Tallinn are also expected at the events.