'Roads Overcome Feudalism': Saakashvili Visits Renovated Tunnel
By Salome Modebadze
Tuesday, November 22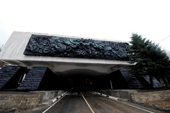 Georgian President Mikheil Saakashvili opened a rehabilitated Rikoti Tunnel on Monday. Emphasizing the importance of tunnels for connecting different parts of Georgia, especially in the mountains, President Saakashvili stressed the importance of the main highway connecting the east and west regions of the country. Worrying about the situation at Rikoti before the Rose Revolution in 2003, Saakashvili recollected the poor infrastructural conditions of the main highway. Welcoming modernization of the tunnel the president expressed his gratitude towards the World Bank for sponsorship and local workers for implementation of the project.
"It is always harder to reconstruct the tunnel rather than building a new one considering the internal infrastructure," said the president sharing future infrastructural plans about Svaneti, Racha, Kazbegi and Adjara. Having walked the tunnel with Ramaz Nikolaishvili, the Minister of Regional Development and Infrastructure in ten minutes, the president said they would start constructing a four times longer tunnel in Stepantsminda, Kazbegi region in autumn, 2012. "Georgia is a mountainous country and we are facing new challenges nowadays," Saakashvili said emphasizing the benefits of tunnels which can effectively shorten routes. "Roads are a great economic stimulus for uniting the country and overcoming the feudal mentality and dismemberment within the country," he stated.
Saakashvili also hoped that local workers would consider the experience of foreign specialists, and master construction skills so well that soon they would start building similar tunnels abroad. The 1,750-meter long tunnel, equipped with modern facilities, has been reconstructed under the special patronage of Minister Nikolaishvili who emphasized the benefits of the restored tunnel. A modern lighting system, emergency telephone points, and video surveillance are part of international standards which according to Minister Nikolaishvili have made the rehabilitated Rikoti tunnel so special.
The USD 43 million restoration process engaged 250 workers from the regions, who dealt with construction since July, 2010. The passengers welcomed the opening of the main Georgian highway. Stressing he would keep the promise of building more tunnels in the mountainous parts of the country, Saakashvili wished health to the Minister of Infrastructure, who had taken the responsibility to ensure safety in the newly reopened Rikoti Tunnel.