"Impossible is Nothing": Saakashvili Opens New House of Government in Kutaisi
By Salome Modebadze
Thursday, November 24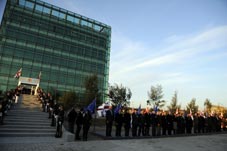 Georgian President Mikheil Saakashvili was typically loquacious at a first government session at the newly opened House of Government in Kutaisi on Tuesday. Calling Kutaisi the second capital of Georgia Saakashvili shared plans for promoting all parts of the country in the near future. Appraising the Governmental Strategic Development Plan for 2011-2015 Saakashvili hoped to attract more foreign investments through tourism and the energy sector in the near future. This may improve Georgia's credit rating, and, Saakashvili said with typical understatement, make the country one of the most important economic, cultural and political centers; "a new Hong Kong" for the world.
Talking of Georgia's foreign policy progress, Saakashvili welcomed the EU decision about starting negotiations over the Deep and Comprehensive Free Trade Agreement with Georgia, which, according to the president would enable the country to export local products to the European market. The president also announced that Georgia would start negotiations about a visa free travel regime with the EU in the near future, and welcomed the resolution of the European Parliament on Georgia's prospects of becoming a member of the EU. "This is a reality towards which we are moving," Saakashvili said. He also interpreted recent comments by the Russian President Dmitri Medevdev as an admission that he had started the August War to avoid NATO's expansion to the Russian border.
Accusing Russia of constantly violating the ceasefire agreement, the Georgian president discouraged those politicians who "long for" the old Soviet times and stressed that the Georgian people want their future to be protected and never "kneel" in front of Russia. Emphasizing the importance of integrating with NATO, Saakashvili called it "the historic instinct" of Georgians to be under the umbrella of a strong union in order to ensure a safe future.
Welcoming the improvement of Georgia's credit rating, in an epoch of global challenges Saakashvili praised the country for overcoming economic problems after the August war and the world economic crisis, achieved through successful reforms carried out by the government. According to the international credit rating agency Standard & Poor's Georgia is loyal to the principles of a market economy and budget policy and the country has great potential for development through the structural reforms it has been carrying out over the past few years.
"It is a really historic event which should be reflected in our people's economic welfare, employment and further development," said the president, applauding the reform process in the country during the last five years. The raising of Georgia's credit rating from "B+" to "BB-" means that Georgia has accomplished something actually impossible, the president riddled. "Today Georgia tries to keep a high level of development; we have support from Europe because of the stable headway made," Saakashvili said. He added idealistically that even many people in Russia are delighted with Georgia's reforms.