Russia and US at Loggerheads over Missile Defence
By Ernest Petrosyan
Friday, November 25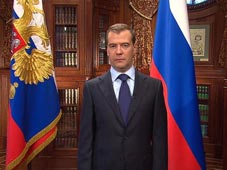 Russian President Dmitry Medvedev addressed Russian citizens with a statement regarding the evolving situation around US – NATO missile defense in Europe. In the statement, broadcast via Russia 24 TV channel, Medvedev said he had made a series of decisions in response to the deployment of missile defense systems.
"Firstly, upon my order, the Russian Defense Ministry is to immediately set up a warning radar system for missile attack in Kaliningrad.
Secondly, within the framework of the creation of air and space defense in Russia, it is a matter of priority for the protection of strategic nuclear forces objects to be enhanced," stated Medvedev.
Thirdly, Medvedev threatened to arm ballistic missiles with technology to overcome the missile defense systems. Yet, he also ordered Russian armed forces to work out a set of measures to undermine the informational and control capacities of the missile defense systems deployed in Europe.
"The mentioned measures are adequate, efficient, and inexpensive", said the Russian president. If the aforementioned measures are not enough, the Russian Federation will deploy contemporary offensive systems in western and southern parts of the country, which will suppress the European component of the US missile defense complex".
"One of the steps will be the deployment of "Iskander"[missile systems] in a particular district in Kaliningrad", said Medvedev, adding that other measures are also being developed and if necessary applied to counteract US ballistic missile defense systems.
The NATO Secretary General responded to Medvedev's antagonistic statement. Anders Fogh Rasmussen expressed his disappointment at the inappropriate response from the Russian side.
"Such deployments would be reminiscent of the past and are inconsistent with the strategic relations NATO and Russia have agreed. They seek the spirit of the dialogue, including on missile defense issues that they are currently conducting".
"Cooperation on missile defense would clearly show that NATO and Russia can build security together, not against each other. It would allow us to deal with new threats and old suspicions at the same time. It would show that cooperation, not confrontation, is the way ahead," states Rasmussen.
The US State Department also announced yesterday that it would stop fulfilling its obligations under the Conventional Armed Forces in Europe (CFE) Treaty with respect to Russia , in retaliation for Russia's 2007 decision to stop honoring that treaty altogether, Foreign Policy reports.
"A year of US-Russian negotiations on the treaty broke down last May, a month before Nuland [State Department Spokeswoman] returned to Washington. She said that the United States will continue to honor the treaty with all states, except Russia", the article reads.
Georgian officials and political analysts assessed Medvedev's statement as the end of the reset policy between US and Russia and start of another phase of a cold war.
"Medvedev's statement, indeed, does not represent a direct threat to Georgia. It is questionable whether Russia is able to find financial resources to implement such changes. However, it should be noted that the tone from Russian officials has cardinally changed towards the west, and Russia once again chose confrontation," said Foreign Minister Grigol Vashadze.
Georgian analyst Nika Chitadze says that Russian anger is caused by the refusal of the US side to provide Russia with information about its missile complex due to a report of the International Energy Agency, where Russia was accused of co-operation with Iran in nuclear weapon development.