Ivanishvili, Our Georgia-Free Democrats and Republicans Draw Closer
By Gvantsa Gabekhadze
Monday, November 28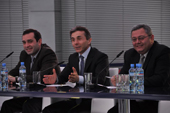 United in one political structure, but no block or coalition as yet – this was the message from a meeting of Georgian billionaire Bidzina Ivanishvili with partner opposition political parties – Our Georgia–Free Democrats and the Republicans, on November 25.
It was known beforehand that Ivanishvili would collaborate with the above mentioned political parties, however the statement on unification in a common political structure was made only now. At the same time, a statement on forming different working groups has also been voiced.
"Eleven working groups have been created, among them a working group on the economy, security, agriculture, healthcare, social issues and so on. Representatives from the three forces will be united in it. We will actively collaborate with one another," representative of Our Georgia-Free Democrats, Viktor Dolidze, said.
A representative of the Republican Party, Davit Berzdenishvili, explained the importance of the groups, "we launched our activity within groups. We will describe our steps to each Georgian family."
The leader of the Free Democrats, Irakli Alasania, underlined the reasons that Ivanishvili and his party are collaborating for. He mentioned that, apart from a coincidence in their views, there is two sided necessity for collaboration between the businessman and the two parties. "Ivanishvili has the greatest experience in business, he knows how to create jobs, employee people and so on, we have a political and diplomatic past and experience, thus we complement one another."
Alasania also one more time explained what Ivanishvili, Our Georgia–Free Democrats and the Republicans mean in terms of "pragmatic relations with Russia" and "coming to parliament with a two-thirds majority". After reiterating Georgia's close relations with the international community, Alasania underlined that Georgia should come to closer to Europe "which would enable us to have more power to have relations with Russia". Pragmatic relations mean the usage of Russia's participation in the WTO to allow Georgian products to reenter the Russian market, "which is very important for the Georgian economy and agriculture." He also stated that Georgian businessmen are not protected in Russia, unlike Russian ones in Georgia, who own very serious businesses, like Enguri Hydro Electric Power, gold extraction and so on and that pragmatic relations would settle such problems. Such relations with Russia will also permit Georgia "to contact our Abkhazian and Ossetian brothers and Georgia's de-occupation."
As for Ivanishvili's statement that his party would come to Parliament with two-thirds of the seats, Alasania mentioned that this "is very important in the beginning, the National Movement to be unable to form a majority in the parliament, as otherwise Saakashvili will be able to stay in power as the Prime Minister or as the Chair of the Parliament."
Ivanishvili's and the opposition statements on collaboration, and pragmatic collaboration with Russia, have been taken as anti-Georgian by the government. As majority representatives frequently state, officially Tbilisi has several times expressed a readiness for dialogue with Russia, which was rejected by the Russians. As they state, Russia has imperialistic attitudes and no matter which government is leading Georgia, Russia would not change its policy. According to them, Russia permanently tries to strain the situation and from time to time "sends its stooges into the country." As they mention, the last such stooge was Bidzina Ivanishvili, who will not be supported by the Georgian people.
Analyst Ramaz Sakvarelidze doubts that Ivanishvili will be given Georgian citizenship, however, as Ivanishvili and his family can "create serious problems for the government." If the government does not get a mandate and does not form a majority in parliament it will be a loss, but also if the government gain enough votes in the parliamentary elections, as Saakashvili did in the presidential one, meaning 52%, it would also be a loss for the current Government."