Highway Construction Completed
Wednesday, November 30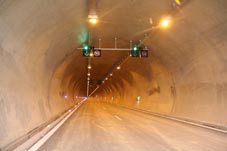 The construction of two tunnels with a length of 800 meters each, a road section with a length of 30km and two ultra modern, multi-functional, service centers, designed by Urgen Meier, have been completed on the 15km road section Sveneti - Ruisi of the highway, the E-60.
The E-60 is the main transit route west to east. The construction of the Sveneti - Ruisi section of the E-60 is one of the largest-scale projects in the Caucasus. The project includes the construction of almost all types of road-structures. Among them, the construction of two tunnels with a length of 800 meters and two overpasses with a length of 880 meters.
Construction of two 800 meter tunnels and the road has been completed. The cement-concrete surface with a usage time of 32 years in both directions equaling 30km has been finished. Underground work has been arranged, the installation of drainage systems and water pipes is also done. The project was funded by the World Bank. In the framework of the project, on the highway, in the direction of Gori, near Igoeti a new bridge has also been constructed. Also, a new bridge on the river Liakhvi and access road to the bridge have been constructed. Around 1,500 people were employed on the construction works of the road, tunnels and bridges and most of them are local citizens.
At a multi-functional service centre, constructed by the Wissol company, petrol and gas stations of "Wissol", a special trading area for agriculture products, "Wissol" Auto - Express, a supermarket "Smart" and a "Smart Cafe" have been opened.
At the service centre constructed by the fuel retailer "Sokar," a petrol station, a "Goodwill" supermarket, fast food, a bank branch, tourist services and children's entertainment centers have been opened.
Both centers are equipped with large-scale parking areas for three categories of cars, buses and taxi. Also, there is a separate place for cargo trailers.
The Ministry of Regional Development and Infrastructure of Georgia plans construction of such kind of service and recreation centers in 16 key areas along the central highway through Georgia.