Georgian and Armenian Presidents Speak at Economic Forum
By Salome Modebadze
Thursday, December 1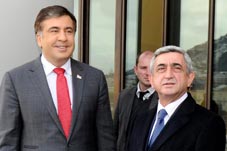 Georgian President Mikheil Saakashvili and his Armenian counterpart Serzh Sargsyan opened a joint business forum at the Radisson Hotel on Wednesday. Sharing Georgia's macroeconomic indicators, President Saakashvili spoke of Georgia as one of the leading countries in terms of the ease of doing business in the world according to World Bank estimations. Recollecting how Georgia's damaged economy has been restored after the Rose Revolution, Saakashvili spoke of eight years of successful reforms in the country. Calling it "the number one reforming country" Saakashvili forecast significant economic increases in the country for next year "if the world economy does not collapse."
Encouraging Caucasian states to unite, the Georgian president welcomed the long history of cooperation between Georgian and Armenian officials at various international forums, which, according to Saakashvili has "moved their economic integration to a higher level." The two neighboring countries' cooperation in easing customs duty procedures and an attempt to synthesize taxation systems should, according to Saakashvili, end with the integration of the entire Caucasian economy as "the only prospect for the region."
Expressing his willingness to deepen economic cooperation with Georgia, Serzh Sargsyan encouraged Armenian businessmen to invest money in Georgia explaining that "money should be invested where it will bring most benefit." Sargsyan also welcomed Georgian investment in Armenia thus tightening cooperation between the two countries. "Georgia creates an example from which we are learning now," the Armenian president stated.
The business forum offered a wonderful opportunity to Georgian companies and the Armenian business sector to discuss various issues from almost every field. According to the Minister of Regional Development and Infrastructure Ramaz Nikolaishvili Georgian companies would be able to participate in tenders in Armenia from the next year onwards. "We have also familiarized Armenian companies with the procedures necessary for participating in Georgian tenders," the minister added.
"The participation of the presidents in the economic forum emphasized the strong political and economic relations between the two countries," Vera Kobalia, Minister of Economy and Sustainable Development, stated. Stressing how the annual trade turnout had increased over the past ten months, Kobalia reported that exports had reached USD 185 million this year. Expressing interest in the Georgian economy, the Armenian guests also welcomed the country's rapid success in the last several years and hoped that by entering each other's markets the countries would even further improve their economies.