Conference Held to Help Mine Victims across South Caucasus
By Etuna Tsotniashvili
Tuesday, December 6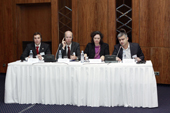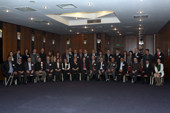 A two day conference on Socio-Economic Assistance for Mine Victims was opened on December 5 at Sheraton Metechi Palace Hotel where representatives of Georgia, Armenia and Azerbaijan were brought together to discuss the social reintegration of mine victims in the Caucasus region.
The conference is hosted by the International Organization for Migration (IOM) and the International Trust Fund for Demining and Mine Victims Assistance (ITF) and the project is funded by the Austrian Development Cooperation (ADC)/Austrian Development Agency (ADA) through the ITF, a Slovenia-based organization.
The goal of the project is to develop and enhance the socio-economic reintegration initiatives combining financial and non-financial support for landmine victims and their family members. It represents a concerted effort to open up new opportunities and to improve their standard of living as well as to highlight the reintegration issues faced by persons with disabilities. The project links with similar socio-economic assistance activities for mine victims in Armenia and Azerbaijan. As part of the regional cooperation activities, the regional conference is a milestone in bringing together the key stakeholders from Armenia, Azerbaijan and Georgia on a technical level.
"The International Organisation of Migration is very pleased to be engaged in this conference, to support mine victims and help them to reintegrate into society. Participant guests will exchange knowledge and opinions, we want to enhance joint responses over this issue and hopefully this conference will be fruitful for invited participants," Ilyana Derilova Chief of the IMO mission told
The Messenger
.
The conference was opened with a welcoming speech by the Head of the Social Department of Ministry of Labor, Health and Social, David Okropiridze. He highlighted that as the Caucasus is a very problematic region issue of mine victims is very real topic and expressed his hope that sharing knowledge and experience will help to take measures for preventing mine victims in future.
"The discussion is pretty interesting as the issue of mine victims is acute in the Caucasus region. During the conference we will talk about the individuals who became mine victims and will try to set an aim to make some preventive measures in order to decrease the number of victims of mines," Okropiridze said.
Alexander Bohr, a representative of Austrian Development Agency (ADA) welcomed the regional conference and stated that the main purpose of the conference is to facilitate socio-economic reintegration of victims into society and added that the ADA has recently opened a regional office in the South Caucasus which shows its commitment to the region.
Khachatur Kazazyan IOM Micro-Enterprise Development Project Coordinator was one of those who arrived from Armenia and attended the conference. In his comment to the Messenger he emphasised that identifying the needs of disabled people and mine victims is vitally important. "It will be very useful also for government officials and outcomes will be utilised in drafting national policies for local governments." According to him, Armenia has just started a pilot project of a socio-economic reintegration project and 17 mine victims are involved in the project and it is running very successfully. They have very close cooperation with local government as well as the ministry of defence and ministry of social issues. "We have many non-targeted people that need further assistance therefore we are planning to enlarge the project in the near future," Kazazyan said.
Luka Buhin, ITF representative, shared his personal experience with the delegates. He said that his father has one eye however it does not create any obstacle to drive, he works as usual and gets income for his family. "I actually did not realise that he was missing an eye and that it is just a normal thing, for me he was always a normal person who does his business and family duties like others, so perhaps this workshop and exchange of experience can basically contribute to this kind of perception of persons with disabilities or mine victims in this region."
In the framework of the regional conference of a documentary film was shown - "A Way to Reintegration" - dedicated to the beneficiaries of the programme in Armenia, Azerbaijan and Georgia.