Multiculturalism in Georgia Promoted by New Map
By Etuna Tsotniashvili
Tuesday, December 6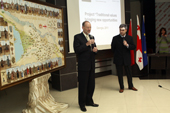 A presentation of a map of multicultural Georgia was held last Friday organized by the Public Movement "Multinational Georgia."
More than 170 cultural monuments are shown including sites of both Georgian and ethnic minority origin that are situated in Georgian territory nowadays. The work on the map took place over a seven month period. According to project coordinators the compiling of the map was not an easy job and more than 4,000 km was covered by the authors in order to take photos and gather materials about each cultural entity. Consultations were also held with historians, and cultural studies professionals in order to choose major cultural places together.
Polish, Lithuanians, Latvians, Germans, Azerbaijanis, Armenians, Belarusians, Ukrainians, Greeks, Russians and many others totaling 23 ethnic groups and representatives of 14 parts of Georgia were involved. One of the compilers explained that: "on the map representatives of Georgian regions with national clothing and characteristic features are depicted, also those minority representatives who lived in Georgia and live until now are shown."
The goal of the project is to show Georgian cultural destinations along with sites originating from other ethnic groups for tourism purposes as well as the general popularization of multiculturalism. "Let's suppose, an Azeri person wants to spend their holidays on the Black Sea coast of Georgia. On their way they will pass many cultural places including mosques, but they do not know where those places are located. With this map they will be able to find any place and before they even get to their final destination they will also see many other culturally interesting places," Murman Pataraia the project coordinator told
The Messenger
.
The Ambassador of Switzerland to Georgia, Dr. Guenther Baechler, compared Georgia to Switzerland in terms of its multicultural traditions and welcomed the project presentation.
"I think it is a very interesting project, the map is very visual and shows how multicultural Georgia really is as well as how many assets in terms of culture and tradition there is. I think this is valuable for society and for the country as there are many monuments which are not very well known to tourists, such as old houses and churches and I think altogether the map shows the wealth of the nation. This also helps to promote living in one country altogether, with all cultures accepted. It is much easier to develop as a country this way, and this is the tradition of Switzerland which is why we thought we should help somehow," the ambassador told
The Messenger
.
"It is very interesting for me what I have seen today. I am sure this will help people further understand how rich Georgia is from a cultural point of view. Georgian culture is enriched through multicultural representation. I have been visiting many parts of Georgia and I am amazed by their beauty. Georgia should maintain its cultural heritage to hand it to next generations," Karmena Barsegyan a Georgian of Armenian origin said about the new map.