Alitalia to Start Service to Tbilisi
Wednesday, December 7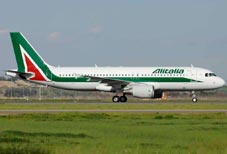 After long and efficient negotiations with Alitalia, TAV Georgia managed to convince Italy's largest air carrier to start regular flights from Rome to Tbilisi in the forthcoming summer season. Italy's largest and the world's 19th largest company is expected to operate at least two flights per week. Ticket prices are not certain yet, but will be finalized within a few months.
With a fleet of 150 airplanes, Alitalia performs flights to 28 local and 62 international destinations in 41 countries worldwide as for November 2011 and soon Georgia will be added to this list.
Speaking of the significance of the flight, TAV Georgia's General Manager Mr. Mete Erkal said: "The direct Rome-Tbilisi flight will not only strengthen trade-commercial ties between the two countries, but will also increase the possibility for Georgian travelers to roam around many countries worldwide. Each new air company entering the Georgian air market is one more step ahead toward tourism development, something TAV Georgia always meets with pleasure and appreciation."
Up to today the only way to travel to Italy for Georgians was via third countries.
Over the past year air companies Air Astana, China Southern Airlines, Ata Airlines, Taban Airlines, Ural Airways, Fly Dubai and Air Cairo have entered the Georgian air market and Qatar Airways will start operations in February 2012.