Court Upholds Decision to Annul South Ossetia Elections as Protests Turn Violent
By Ernest Petrosyan
Wednesday, December 7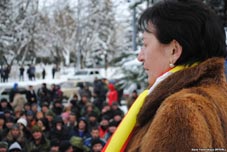 The political disorder in South Ossetia is gradually transforming into criminal confrontation. At dawn on Tuesday, an anti-tank rocket was fired at the regional chief prosecutor Taimuraz Khugaev's home. Khugaev is a close ally of incumbent leader Eduard Kokoity. The rocket, reportedly fired from an RPG-26 rocket launcher, hit the second floor of a five-storey apartment building in Tskhinvali; no one was injured.
Kokoity assessed the incident as a well planed provocation with Georgian connivance. According to him, the South Ossetian opposition is funded by Georgia. "Everything that is happening in Tskhinvali is of the form of an "Orange Revolution", which as we are informed is funded by the Georgian and Ukrainian governments," stated Kokoity.
The South Ossetian Supreme Court upheld its verdict annulling the November 27 presidential runoff results on Tuesday. The winner of those elections, Alla Jioeva appealed the court's decision. "As president, I guarantee that any decision of the Supreme Court will be executed and all responses to threats and actions of provocateurs will be decisive, in legal terms of course", Kokoity said. He also said that "everyone who creates illegal structures in the republic and call on the population for bloodshed will be responsible".
Meanwhile Jioeva, having done everything she can, responding to the Supreme Court's decision and told Interfax agency that she will presumably apply for political asylum.
Russian President Dmitry Medvedev responded to the South Ossetian post-election crises referring to South Ossetia, tellingly, not as an independent state but as "a small territorial entity."
"The situation in South Ossetia is developing in line with internal rules; I do not like it that they have quarreled there [in South Ossetia]. It, of course, happens, especially in small territorial entities. There are only several participants in this process, representing various clans, which periodically get into disputes," Medvedev was quoted by the Russian news outlets as saying at a meeting with a group of supporters at his Gorki residence outside Moscow.
"They should themselves agree on how to rule their state – we have recognized South Ossetia as an international-legal entity. Of course we are ready to help them in the form of the presence of our mediators. Of course we will be doing that, but let them themselves agree and assume responsibility for the fate of this small, but proud people," Medvedev said, adding that instead of "pointing the finger at Moscow, both sides themselves should be taking responsible decisions", otherwise "they will have problems."
The Kremlin sent an official to Tskhinvali to try to help resolve a dispute following the November 27 presidential runoff in which Anatoly Bibilov, a candidate openly supported by Russia and whom Medvedev publicly met a week before the polls, was defeated by the opposition candidate, Alla Jioeva. The runoff results, however, were annulled by the authorities in the breakaway region and repeat elections set for March 25, 2012, triggering the opposition's street protest rallies.