Grant program boosts small business
By Lisa Groshong
Thursday, December 8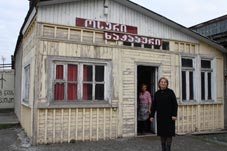 Mariam Khizanishvili lost everything in the August 2008 war—her job, her home, and even her husband.
Khizanishvili's husband had long suffered from diabetes, but he had his disease under control until the family, including three sons and their wives and children, were forced to flee their village in Georgia's breakaway South Ossetia region. When he learned that their houses had been burned to the ground, the stress was too much for his damaged body to handle.
The losses also devastated Khizanishvili.
"After the war, I lost hope," said Khizanishvili, who dresses in black from head to toe, as customary for widows in this region. "I was like a dead man. Everything stopped. Before, I was so active. I lost everything."
Before the war, Khizanishvili worked as a school principal. As part of her job, she oversaw her school's cafeteria, providing the children with khatchapuri and other Georgian specialties. The experience inspired her to begin working in a bakery after she relocated to Karaleti settlement, outside of Gori.
The bakery bustles in its prime location in a trade center near other businesses and a gas station, but a lack of capital was holding it back from its full potential.
In 2011, Khizanishvili received a grant from CARE International in the Caucasus. The grant program is part of CARE's Stabilization and Integration of IDPs into Mainstream Georgian Society (SIIMS) project, which was launched in 2009 to help internally displaced persons (IDPs) who fled their homes during the war integrate into their new environments. The project also seeks to reduce poverty and conflict with local communities.
Khizanishvili is one of 60 IDP women who benefitted from the grants scheme. The total profit women made since the day they started operations is about 25,000GEL.
The granted women businesses generated additional 36 employment opportunities for their neighbors.
Khizanishvili used the money, approximately $1,000 USD, to purchase a grill to roast chicken and an oven to bake khatchapuri.
Buying the equipment made Khizanishvili a shareholder in the business and allowed the bakery to add an additional permanent employee and one part-timer to the staff. The business now employs five people.
"I have more income now," Khizanishvili said. "The business is more profitable."
Receiving the grant from CARE did more than increase the bakery's business.
"I did not expect to win this grant," she said. "Somehow it saved me. I woke up and I became more active. Now, I'm searching for more opportunities. I am more motivated. Now I have hope for the future."