'Faust' Opens Tbilisi International Film Festival
By Salome Modebadze
Thursday, December 8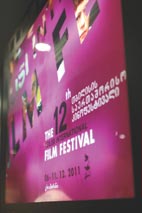 Tbilisi International Film Festival (TIFF) opened its 12th season with
Faust
by Alexander Sokurov in Amirani Cinema on December 6. The Russian film director's version of
Faust
won the Golden Lion at the 68th Venice International Film Festival in 2011. Sokurov's film cast with German actors and actresses is not an adaptation of Goethe's tragedy, but an explanation of "what remains between the lines." A well-educated Faust, who is a mouthpiece for ideas, a transmitter of words and a daydreamer, is driven by simple instincts: hunger, greed, lust in search of God. But by selling his soul to devil he becomes the victim of eternal solitude.
Unfortunately, the Russian director couldn't arrive in Tbilisi due to health-related problems, but he sent his great love and appreciation to Georgians promising to visit the country in the near future.Gaga Chkheidze General Director of TIFF promised lots of interesting local and international films to cinemagoers. The program has around 60 fiction, documentary, animation and short movies. Films
From Sweden with Love, Made in Germany, Independent Movies from the USA, Forum of European Cinema
as well as
Georgian Panorama
promise an unforgettable experience in world cinematography.
American Producer Jim Stark who gave the Georgian audience a master classes in production, felt excited to be in Georgia and to see great movies. "I think it's a good to share Georgian films with the US and Europe," the producer said. Ulrich and Erika Gregor, Founders of Berlin International Film Festival's (Berlinale) International Forum of New Cinema are the special jury members of the TIFF. "After a period of great masters, a period of young talent is coming. I've seen some Georgian films in recent years, I'm very curious to see them and hope they will be very good," Ulrich Gregor told The Messenger encouraging the Georgian film makers to keep on trying to overcome the strong competition to get to the Berlinale festival.
At their cinema Arsenali in Berlin the Gregors often show Georgian films to German cinemagoers. "We have been cooperating for a long time and fell in love with Otar Ioseliani, brothers Elder and Giorgi Shengelaias, Merab Kokochashvili, Lana Gogoberidze, Nana Jorjadze and others. I'm always glad to come to Georgia to find new films. I think a festival like this is very important way of exchanging films and communication," Erika Gregor added.
There will be a special prize for the best film director from the 16 participants of the
Georgian Panorama
while the 3rd Documentary Film Pitching
Pitch.Doc
organized by Sakdoc Film in partnership with Tbilisi Film Festival and Goethe Institute will introduce documentary film projects in development from Georgia, Azerbaijan and Armenia. Participants selected by the international jury will have two days of preparatory workshops, official pitches will be held on December 10 where the best project will get 2,500 GEL from the Georgian National Film Center.