Baramidze: EU Membership a Distant Prospect
By Gvantsa Gabekhadze
Thursday, December 8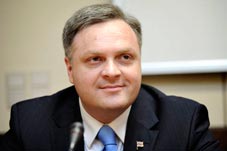 Membership of the European Union is not relevant for Georgia currently, Georgian Vice Prime Minister Giorgi Baramidze told EurActiv on December 7 where he spoke about Georgia's relations with international organizations and mentioned that Georgia would become a NATO member earlier than an EU member. At the same time, Baramidze called on the international community to bring more pressure on Russia.
"At the moment, it [EU membership] is not relevant, we are not talking about entry in the medium-term, at least for three to five years," Baramidze said.
Despite this, "the EU is our strongest hope" and Georgia will look to be positive, to do better, Baramidze mentioned. The minister concretized what is more important for Georgia at this time: "first of all, what we want more of is support in the security field."
Baramidze claimed that due to serious security issues Georgia would become a NATO member earlier than a member of the EU. He stated that "EU integration requires many more significant structural changes in the economy and we also have to rise up to EU legal standards, so it's a much longer process, but it is our objective."
As for NATO, Baramidze hopes that the alliance would make serious changes to Georgia's security, "once we are more and more integrated it will be more and more difficult for Russia to continue this illegal occupation. And once we become NATO members, Russia will lose its incentive to keep this occupation," Baramidze said and added that the Russians would also realise that with these kind of 19th-century methods, it will be impossible to reach any deal with Georgia. "We do have a common interest with Russia and we are ready to respect that, but with tanks and occupations they cannot do this. I think that once we enter NATO they will be more constructive and it will be then much easier as far as EU integration is concerned."
At the same time, concerning Russia, the vice PM, believes that international pressure on Russia is not enough and powerful states and organizations have the means for pressing Russia more: "We see that there is big room for the EU and the US to put pressure diplomatically and politically on Russia to stop the occupation of Georgian territories, because this problem is dragging us behind very, very severely," Baramidze says and also underlines that Georgia "doesn't want to criticize our friends, because we are thankful for their support. What we mostly want is political and diplomatic pressure on Russia and more involvement of the EU in the security field." According to him, right now, Russians do not feel this pressure, "they do not care about this occupation much. Yes, the EU is talking to them, but the Russians are not taking it seriously. It's obvious."
According to the Georgian opposition, which organization – NATO or the EU - is better to participate in is a moot point, as under the current leadership of the country, Georgia has no chance of either membership. As a representative of the Republican Party, Tina Khidasheli, told The Messenger, "recently Georgia is as far from NATO and EU as it has ever been due to the current leadership of the country."
Many Georgian analysts also think that currently, Georgia does not satisfy NATO and EU standards thus participation in the organizations is a long way off. The analysts Ramaz Sakvarelidze and Gia Khukhashvili draw attention to the concrete demands of the international organizations, for example, NATO asks for court reform yet this is not being carried out inside the country yet.