David Bakradze Meets Diplomats
Friday, December 9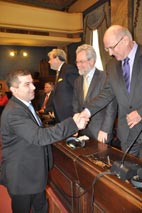 Diplomats accredited in Georgia and representatives of international organizations were introduced to the work of a special commission established for the purpose of verification of voters' lists.
David Bakradze, the Chairman of Parliament, introduced the diplomats and the foreign experts to the specifics of the creation and work of the Commission. According to him, the special commission was created on the basis of agreement between the political parties and will cooperate actively from the outset with international organizations and representatives of NGOs.
"Verified voters' list is one of the important elements for conducting free and well-organized elections. The rumours concerning voters' list shall stop once and for all in Georgia, thus for that purpose the special commission was established, which has all resources and authority for the verification of voters' list" Bakradze noted.
Akaki Minashvili, MP, and Chair of the Special Commission, Mamuka Katsitadze, were participating in the meeting.