Classic French Films of Leos Carax Shown at Tbilisi Film Festival
By Salome Modebadze
Friday, December 9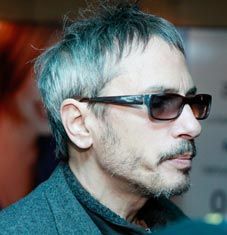 Bad Blood (Mauvais Sang)
by French film Director Leos Carax was shown to cinemagoers at Amirani cinema on December 7. Having invited Carax, one of the most important figures of French cinematography to the 12th Tbilisi International Film Festival (TIFF), Gaga Chkheidze General Director of the festival expressed his gratitude towards the special guest for sharing his unique films with the Georgian audience. Although he is not familiar with modern Georgian films Carax saw Sergo Parajanov's film in his youth when he was just beginning his career as a film director.
Bad Blood
, shot in France in 1986 together with two other old films
The Lovers on the Bridge
(1991) and
Pola X
(1999) were written and directed by Carax, who shared the secret of his success to future directors. "The only necessary thing is to feel whether you fully belong to the world of cinematography or not," Carax said at the press conference.
Having dedicated his early films to French New Wave cinema, inspiring him to become a director, Carax even performed at Jean-Luc Godard's
King Lear
. The author of five films Carax never watches his creations. There are two main actors Denis Lavant and Guillaume Depardieu with whom he usually works in his films. Carax recollected the first and the last casting in his life when he found Lavant. "He is a wonderful actor-acrobat. Looking at him I can easily imagine the plot of the film," he stated.
The famous director has recently finished working on his new creation – "a strange film" where Lavant portrays a "polygonal person." Ideas for his films come themselves - from faces, emotions, situations. The plot for
The Lovers on the Bridge
came to him when he saw two homeless people on a bridge after his return to Paris from a long absence in the French capital.
Gilles Carasso, Director of the French Institute in Georgia emphasized the importance of the festival which offers the best films to cinemagoers which they can't see anywhere else. "We are partners of the festival because we think it's a very important for Georgian cultural life," Carasso told
The Messenger
hoping that the Georgian audience would like TIFF's choice and enjoy the films of Carax.