Abkhazia Unconcerned by Russia-Georgia WTO Agreement - Ankvab
By Ernest Petrosyan
Friday, December 9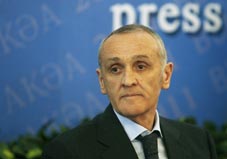 Abkhaz leader Alexander Ankvab has addressed the concerns among opposition groups in the breakaway region related to the bilateral trade administration agreement made by Georgia and Russia, saying that the agreement represents no risk to Sokhumi, Abkhaz news agency, Apsnipress, reported on December 6.
According to the Abkhaz leader, the data on the volume of trade between Russia and Abkhazia is not a subject of any secret and it has been publicly available since it "does not represent any strategic interest for either side".
"If we are concerned about the fact that on the Russian side of the border electronic seals will be attached to cargo, who said that this will also work on the Abkhaz side of the border? No one has agreed it with us. And who said that cargo will move somewhere else via Abkhazia? It has not been agreed with us either. No observers, who will be monitoring there [on the Russian side of the border and on the Georgian side of the administrative border with Abkhazia] can accompany cargo on our territory. We will not allow them in and no cargo will go anywhere without agreement with us," said the Abkhaz leader placating Abkhaz concerns.
Yet, Ankvab noted the fact that the Georgia-Russia bilateral WTO agreement does not acknowledge Abkhazia, mentioned as a "trade corridor", would not change reality on the ground.
"Abkhazia will not stop being Abkhazia just because our country was called "a corridor"; our constitution and our independence have not gone anywhere. No matter whether the agreement is signed or not, our task is to ensure that no international document violates our sovereignty and infringes our independence. We will definitely not allow it to happen," he said.
Ankvab noted that Abkhazia can become a transit corridor which is always profitable. In a separate report, Apsnipress quoted Ankvab as saying that Abkhazia should "legalize trade with Georgia." He said he was in favor of customs administration of trade across the border on the Enguri river.
"The membership of the WTO is important for Russia, which is our strategic ally. And what should we do in this case? Wear a sackcloth and ashes? There is no reason for that. Fears are needless here, even more so phobias. And believe me, we will not do anything that will harm Abkhazia," Ankvab said.
He also said that there were issues which required addressing quietly and without much publicity. "We always defend Abkhazia's interests. Maybe someone wants us to speak out loudly and noisily against something, but that would not be right. There are no risks for Abkhazia," Ankvab said.
According to political analyst Ramaz Sakvarelidze, the Russian side to some extent sacrificed Abkhazian interests agreeing to the document. "The document includes the breakaway regions within Georgian borders, which is important for us. As for resumption of trade relations with Georgia, indeed its very positive perspective, since trade relations is mainly a win-to-win game, which will somewhat bolster the reintegration processes", Sakvarelidze told The Messenger.