Tbilisi International Film Festival Closes with Awards
By Salome Modebadze
Wednesday, December 14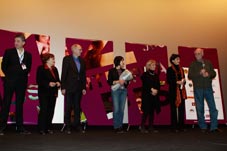 Nana Janelidze won best director of the 12th Tbilisi International Film Festival (TIFF) with her film
Will there be a Theatre up There?! (netavi ik teatri aris?)
. The main character of the film is famous Georgian actor Kakhi Kavsadze and retells the story of his family during the Soviet times. The film depicts the chronicle of a big Georgian family and reflects the lives of millions of people who participated in World War II and were in concentration camps in Nazi Germany and the USSR. Sponsored by the Bank of Georgia (BOG) the winning film will participate at the Berlinale festival in 2012 and promote Georgian cinematography.
The international jury - Ulrich and Erika Gregor, Founders of Berlin International Film Festival's (Berlinale) International Forum of New Cinema - welcomed all the 16 participating films of
Georgian Panorama
especially the engagement of female film directors and expressed their appreciation of several other films:
Baskhmaro
by Salome Jashi,
The Nest
by Tornike Bziava, and
Salt White
by Keti Machavariani. Georgian and foreign cinemagoers had an opportunity to see new and classical films by world famous directors during the festival. Films from various countries worldwide made the festival one of the main cultural destination for the five days it was running.
TIFF closed on December 11with the film
Innocent Saturday (V Subboty)
directed by Alexander Mindadze. The film recollected the day of the explosion of a reactor tower at Chernobyl station in Ukraine, in 1986. It is not about the reasons of the tragedy but more about the people from the post-Soviet space, who are aware of the dangers around them, but still hesitate to escape the reality. As the Russian director told the audience at Amirani cinema, he loves Georgia and its capital Tbilisi – the city where he started his professional activities with his Georgian colleague Giorgi Shengelaia. "Tbilisi has remained the same within the changed facades; it has kept its soul as an important part of global culture," he said earlier at the press conference. The story based, on real facts, is about the overturned fate of a perfect town as a "metaphor of life."
Meanwhile the names of the two-day Documentary Film Projects' Pitching Sessions organized by Sakdok FILM - a documentary film production company in Georgia - were also announced at the Goethe Institute in the frame of the TIFF. The Georgian project named
Library
by Ana Tsimintia and Mikheil Svanidze received 2,500 GEL from the Georgian National Film Center while the Armenian project
Harmful Word
by Tagui Torosyan and Davit Stepanian will leave for the
One World Film Festival
in the Czech Republic. One of the jury members from Sweden gave a personal award of 500 euros to Eka Chitanava-Malinkovska and Natia Guliashvili for the idea of a project called
Venera
.
Expressing their gratitude towards the supporters of the annual festival, the directors of TIFF Gaga Chkheidze and Nino Anjaparidze hoped to make the next TIFF even better.