Trade Agreement to Draw EU Markets Closer to Georgia
By Salome Modebadze
Wednesday, December 14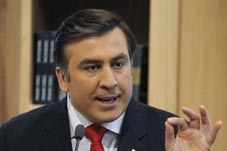 Georgian products and services will soon be exported to the sizeable European market. The final stage of negotiations on the Deep and Comprehensive Free Trade Agreement (DCFTA) between Georgia and the European Union were held in Brussels on Monday. Calling it an important political period for the country, Georgian President Mikheil Saakashvili stressed it would attract more investors to open new industries and employ people in Georgia. The president stressed the significance of European markets for Georgian economics praising the successful reforms carried out in the country. As he said, 2011became the year of Europe's psychological turning point in respect of Georgia.
Chairing the meeting of the National Security Council on December 12, the Georgian president hoped to start negotiations about the visa free regime with the EU member countries. Recollecting how pessimistic people had been about the prospect of Georgian-EU cooperation Saakashvili said he couldn't even dream about Georgia's entrance to EU. "At every summit or meeting I have attended recently I hear that Georgia will become a member of the EU," the president said recollecting the words of the French President Nicolas Sarkozy during his "historic visit" to Georgia in which the French president made such a statement. Called it a unique chance, Saakashvili emphasized that by deepening Georgian-EU cooperation his political group would put the basis for fulfilling the nation's historic dream.
The president spoke of Georgian-EU cooperation as proof of Georgia's success. As the president stated the country had not become isolated from the rest of the world after the August War in 2008. Despite the attempt of occupying Russian forces to blacken the country's name, Georgia became globally important. "Georgia has become an exemplary country in the whole region with its successful reforms carried out in the last 3-4 years," he said referring to the DCFTA as not only a diplomatic victory but a significant political process.
Representing Georgia in Brussels Prime Minister Nika Gilauri welcomed the successful end of negotiations despite Russia's attempt to block the talks. Gilauri said that Russia had been trying to isolate Georgia for the last three years but this attempt had ended in failure. "Georgia is close to Europe and it will soon become a full member of the EU," the Georgian PM said welcoming the free trade agreement between the sides. According to the EU Trade Commissionaire Karel de Gucht discussions on technical issues would start in a month. This would include not only agreement on products, tariffs or services but also ensure the adequacy of legislation. According to the Polish Minister of Foreign Affairs Radoslaw Sikorski whose country holds the EU's rotating presidency, the successful ending of the agreement on the DCFTA underlined Georgia's importance for the EU.