Tbilisi International Airport Celebrates One Millionth Passenger
Thursday, December 15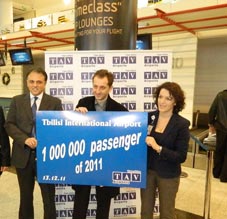 On Tuesday, Tbilisi Airport welcomed this year's one millionth passenger. To celebrate the significant milestone of the airport's one millionth passenger, TAV Georgia's top management organized a warm welcome to the millionth passenger in the departure hall of the terminal. The delighted passenger was Mr. David Katamadze flying to Kiev. The lucky passenger was presented with commemorative gifts from TAV Georgia and an annual Gift Voucher for shopping and dining services at Tbilisi & Batumi Airports.
"This has been an incredible year for TAV Georgia. I am delighted to have welcomed the one millionth customer to Tbilisi International Airport and that so many travelers have chosen our airport during 2011. This is a particularly proud moment for me professionally and personally. It means that Georgia is attracting more visitors. We are working to provide airport's guests with a high level of service and this milestone is a significant one for the airport and for the teams that work hard to deliver seamless service to thousands of passengers who travel through our airport", said Mete Erkal, TAV Georgia's General Manager
This record has a significant meaning for Tbilisi airport's statistics as compared to the same period last year, passenger traffic has increased by 29%.