Patrushev: "Georgia Trains Terrorists against Russia"
By Ernest Petrosyan
Thursday, December 15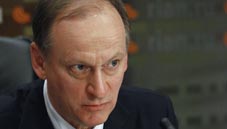 The weakened regime of Vladimir Putin continues its surreal accusations towards Georgia as protests against the ruling regime inside Russia increase due to the recent Duma elections. Ths time, to make the accusations, Secretary of Russian Security Council Nikolay Patrushev, popped his head above the parapet. In an interview to the Russian paper, Argumenty i Fakty published on December 14, Patrushev said that that Mikheil Saakashvili carries out a policy that is far from in the Georgian people's interests He says that the leadership of Tbilisi and the Georgian people cannot even be compared.
"The multi-ethnic peoples of Russia and Georgia are inextricably tied to each other. Saakashvili is carrying out a policy that is far from the interests of the Georgian people. More and more Georgian soldiers are being sent to take part in combat operations abroad [in ISAF operation in Afghanistan]. Training of individuals for carrying out terrorist acts in Russia is conducted on the territory of Georgia", Patrushev said.
He moved from security issues to the negative processes taking place in Georgia's economy. "Georgia's external debt is increasing and inflation is going up. The local population is misinformed, including about the August, 2008 war", said Patrushev, noting that a number of foreign media outlets is also helping them in this.
Patrushev's accusations, indeed, created a resonance among Georgian politicians. The leader of the Christian Democrats Giorgi Targamadze made a comment about the claim that Georgia trains individuals for acts of terrorism in Russia.
"We can't ignore such an accusation. It should be a subject of serious discussion and attention. The interest in our country and the region must increase inside the country and internationally due to this statement. When the inner political temperature goes up in Russia, it causes an increase in risks and threats in the neighborhood and particularly in our country", Targamadze said.
Targamadze believes that a group must gather in parliament in the near future to discuss Patrushev's accusation and the meeting should be attended by the head of the foreign intelligence service Gela Bezhuashvili.
Georgia's Vice Prime Minister Giorgi Baramidze also commented on the aforementioned statement. He says that with Putin's popularity falling, the Russian government tries to launch a new pseudo cold war. He says that Russia needs such statements to outweigh problems they have in the country and to create tension with Georgia as it becomes a member of the Western world.
"They try to oppose Georgia, show that a fight between the West and Russia is taking place, this is a part of the process of launching a new pseudo cold war, that the Russian government will try to create while Putin's popularity is falling", Giorgi Baramdize said. He says that the EUMM is working in Georgia and there are other technical means to exclude aggression on the territory of Georgia.
Georgian analyst Zurab Abashidze, also a former Georgian Ambassador to Moscow, says that such statements should not be exaggerated, but indeed due attention should be paid. "Such statements can be attributed to the internal political processes in Moscow. It is not the first accusative statement, and not the last maybe. It should be attentively observed whether such statements are made just to transfer attention, or if they are made systematically", Abashidze told
The Messenger
.