Presentation of Swedish books
Friday, December 16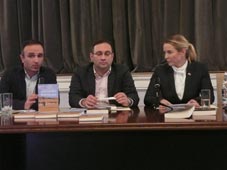 On December 15, a books pre sentation was held at the Ministry of Culture and Monument Protection of Georgia.
The Afghan Diaries
was written by the Ambassador of the Kingdom of Sweden to Georgia Diana Janse. Another book presented,
Laterna Magica
, was written by Ingmar Bergman.
Minister of Culture Nika Rurua attended the presentation.
The books were translated and published by Bakur Sulakauri Publishing House.