Nikolaishvili Sums Up 2011 Achievements in Regional Development
By Salome Modebadze
Friday, December 16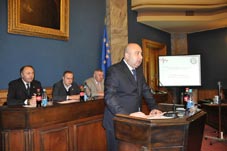 Ramaz Nikolaishvili, Minister of Regional Development and Infrastructure of Georgia (MRDI), released information about the activities carried out by the Ministry in 2011. Calling 2011 "a year of significant promotion" Nikolaishvili spoke of the preconditions for Georgia's successful development in this year at his annual report on Thursday. As the minister told the Parliamentary Members of Regional Policy, Self-Government and Mountainous Regions Committee, a new 30 kilometer-long road, hundreds of rehabilitated motorways, bridges, tunnels, constructions of alternative transit roads in larger towns and resorts was only a part of the activities the MRDI has carried out in 2011.
Explaining that employment is among the most important points from the 10-Point Governmental Strategic Plan for 2011-2015, Nikolaishvili said the MRDI employed around 60,000 people on various projects this year. Georgian regions do not face problems with water provision as tens of municipal centers were changed to provide constant water provision, according to the MRDI. Along with rehabilitating objects important from a tourism viewpoint, the ministry provided IDPs with relevant living conditions in Poti, Tskaltubo and Batumi. Talking of the importance of moving the building of parliament to Kutaisi, in Imereti region, Nikolaishvili expressed his confidence that the building would be better than the one they have in Strasbourg and Brussels.
Announcing the details about the forthcoming projects the minister promised to rehabilitate more roads in future, build new bridges on the Mtkvari River in the capital Tbilisi, add new metro stations and increase financial support for the agricultural sector. The state strategy for regional development in 2011-2017 as well as the action plan in 2011-2014 focus on agricultural and tourism issues, environmental protection and other topics related to the sustainable development of the country. Stressing that 2012 would be a year of more intense activities Nikolaishvili shared future plans and deadlines for forthcoming projects with MPs.
Members of the Regional Policy, Self-Government and Mountainous Regions Committee welcomed the MRDI's activities approving of the projects carried out by the Ministry in 2011. "The ministry has carried out significant projects. Infrastructural projects are still going on so we welcome the development MRDI's activities hoping that they would continue working in 2012," Committee Chairman Vakhtang Balavadze from ruling United National Movement (UNM) said hoping that the Ministry of Regional Development and Infrastructure would continue following its defined course and carry out more ambitious projects in the framework of its strategy and action plan.