Presidential Candidate Prokhorov: I'll Negotiate with Georgia on Breakaway Regions
By Ernest Petrosyan
Tuesday, December 20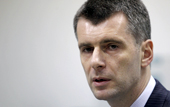 "The conflict between Georgia and Russia has a personal character", Russian tycoon and presidential candidate Mikhail Prokhorov said on Russian channel NTV, Sunday. The businessman, who has already been registered as a presidential candidate, was invited on the political talk show to talk about his political prospective. Among other things the businessman discussed the Russia-Georgia conflict.
According to him, he will try to solve the Abkhazia and South Ossetia conflicts with Georgia at negotiating table if he wins the elections. The Russian billionaire also announced an initiative to make the Kremlin a museum, since he will not change his living place after becoming president. Prokhorov also said the former minister of finance, Aleksey Kudrin, would chair the government during his presidency
Meanwhile the 18th round of the Russian-Georgian Geneva talks remained fruitless as yet. The Deputy Foreign Minister Nino Kalandadze said that the last round of negotiations ended without any agreement achieved.
According to her, the Russian side was still trying to avoid fulfillment of obligations regarding the non-use of force and moreover, the Russian delegation insisted on removing the issue of security mechanisms from the agenda of the negotiations.
"Despite the attempts of the Georgian delegation and the intensive efforts of the co-chairpersons of the negotiations, the Russian side is still resisting the assumption of responsibility for the non-use of force. Moreover, amid these processes, the Russian Foreign Ministry has made a statement on removing the issue of the security mechanisms from the agenda of the Geneva negotiations completely. Our position along with the positions of the co-chairpersons and the United States is clear and very firm in this regards," Kalandadze said.
"Georgia has factually recognized the independence of Abkhazia and South Ossetia", member of the Russian WTO talks delegation Maxim Medvedkov told Russian magazine ITOGI.
According to Medvedkov, in the negotiation process Georgia, as well as Russia, has also assumed a particular responsibility. In particular, Medvedkov assumed that the Georgian side also has to provide the WTO with trade information on the breakaway regions.
"In other words, Georgia has recognized trade relations with Abkhazia and South Ossetia as export-import relations and not as internal trade. Imagine if the US were to inform the WTO about the trade between Alaska and Washington DC. Moreover, Georgia will place customs offices on "borders" with Abkhazia and so called South Ossetia. Thereby recognizing the factually independent status of both regions," said Medvedkov in his own interpretation of the agreement regarding the WTO.