Abkhazia Seeking Customs Points with Georgia on the Enguri
By Ernest Petrosyan
Wednesday, December 21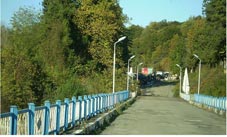 Talks about trade links resumption between Georgia and Abkhazia and the launch of a customs checkpoint on the Enguri administrative border have become commonplace in particular circles in breakaway Sukhumi. The former head of the de-facto Abkhazian customs office Aslan Kobakhia commented regarding the recently announced de-facto Abkhazian President Alexander Ankvab's initiative of trade ties resumption with Georgia to the Abkhazian news portal AIAIARA.
"I frequently hear that President Ankvab is not right, when talking about launching of the customs checkpoint on Enguri river border. I want to explain that this checkpoint exists since the day the war ended," says Kobakhia. According to him, there used to be a customs gang in Gali, which was responsible for inappropriate activities, mainly defense of the "border" and struggle against Georgian gangs.
"Now, due to the boundary control agreement with Russia the border is more firmly covered and therefore a more serious fight against smuggling will be started," said Kobakhia. He also added that now products come mainly through the checkpoint. He says that the head of the state has two options in this situation, either to allow trade or to prohibit it.
"I do not support Ankvab, but I trust his experience that nothing can be achieved with the ban except appreciated goods due to the higher bribes," said Kobakhia, adding that prohibition is not a reasonable decision, and a well-managed customs checkpoint should be launched.
The chairman of the temporary commission on territorial integrity Shota Malashkhia told the Messenger that the aspects of free movement of people and goods in the occupied regions are included in the government's reintegration strategy; however, the occupying forces hinder this process.
"Indeed, the customs checkpoint cannot be established on the so-called border, since Abkhazia is Georgia. However, the government supports the free movement of people and goods in the regions, but it is impossible until the de-occupation of the regions," said Malashkhia.
As Tornike Sharashenidze said, such official relations cannot be established, since it means Georgia should recognize Abkhazia as an independent state.