Accusations Fly over Ivanishvili's Real Motives
By Gvantsa Gabekhadze
Wednesday, December 21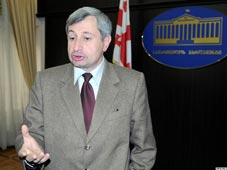 The parliament session on December 20 turned into a confrontation between the parliamentary opposition representatives regarding the "funds and origin" of Georgian billionaire, Bidzina Ivanishvili.
As it seems the authorities are not the only who take Ivanishvili as a Russian oligarch who is trying to artificially strain the situation in Georgia. The idea is also shared by some from the parliamentary minority, whose ideas are identical to those of government members.
The chairperson of the faction Strong Georgia, Deputy Gia Tortladze accused Bidzina Ivanishvili of "an attempt to stage disorder in Georgia with Russian money" from the parliamentary tribune.
Tortladze mentioned that Bidzina Ivanishvili is a Russian oligarch and not a Georgian politician and he is trying to buy political parties.
"I have trustworthy information", Gia Tortladze said, adding that Irakli Alasania's party [Our Georgia-Free Democrats], the Republicans, Zviad Dzidziguri, and Koba Davitashvili and certain experts are financed by Ivanishvili.
Tortladze is convinced that the new bill about unifying political parties will allow Georgia to avoid engaging with foreign countries' oligarchs.
"I have trustworthy information from individuals who are in the closest circles of the people who have taken money or who are going to take it. It is not Georgian money, it is Russian money, big money, Gazprom money and it is spent on inspiring inner disorder in Georgia", Tortladze said.
The MP also mentioned that Ivanishvili lost Georgian citizenship "based on the Georgian constitution," and not for some other reason, which is so frequently mentioned by the majority of the opposition and analysts.
Tortladze's statements were immediately responded by those who are allies of Ivanishvili. They responded that Tortladze "died as an opposition politician in 2007."
Head of Conservative Party Zviad Dzidziguri said that, "Bidzina Ivanishvili played a great role in establishing Sachkhere military battalion. If a businessman did this with Russian money, the government had to take care to see that the money didn't end up on defense".
As he said, Gia Tortladze is a microphone of the United National Movement and he has no right to speak about the finances of others, all the more so in the context of Ivanishvili. Dzidziguri said that he continues to work with the businessman and other political parties for the 2012 parliamentary elections and he is not interested in Ivanishvili or other's money.
Dzidziguri believes that "the businessman is a chance that must be used by the Georgian people".
Dzidziguri called on the National Movement during a press conference Tuesday to get ready to work in an opposition regime.
Parliament opposition MP and member of Irakli Alasania's Our Georgia- Free Democrats, Gia Tsagareishvili, demanded an investigation concerning Tortladze's statements.
However, this was not the only debatable issue in Parliament on Monday. Fellow parliamentary opposition MP, Jondi Baghaturia, stated that the Christian- Democrats "were cast aside by the authorities" regarding the election code issue. In response, the Christian- Democrats ' representative Levan Vepkhvadze mentioned that Baghaturia and some others like him were "more cast aside" as an increased number of MPs would be more profitable for small opposition groups. However, even here, the Ivanishvili issue was not forgotten and Christian–Democrats admitted that "Baghaturia is doing his best to somehow deserve Ivanishvili's favor" however, according to them, the businessman even avoids shaking his hand.
While hearing opposition debates, the Parliament Chair, Davit Bakradze also mentioned that the prosecutors' office would be interested in such kinds of accusations, as were voiced by Tortladze.