New National Security Concept Highlights Continuing Russian Threat
By Salome Modebadze
Wednesday, December 21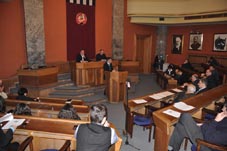 Russia is still among the main threats for the country according to Georgia's new National Security Concept. The draft which should replace the document adopted in 2005 was discussed at the enlarged committee session at Georgian Parliament on December 20. The Russian military "occupation of parts of Georgian territory" and "a risk of renewed military aggression by Russia" is identified in the new document as one of the major threats and challenges Georgia is still facing. Discussions over the national security concept engaged lawmakers from the ruling United National Movement (UNM) and opposition parties, experts, NGOs and civil society.
Analyst Nika Chitadze who participated in discussions spoke of differences between the old and new document with The Messenger. The National Security Council of Georgia sent experts the first version of the national concept and they returned their recommendations as feedback. The Security Council then considered the experts' opinions. As Chitadze explained the Russian aggression against Georgia dramatically changed the threats and risks the country had been facing before. The previous concept considered little possibility of opening military aggression against Georgia, from the Russian military bases located at the border, while after the August War in 2008 Russian Federation tried to derail Georgia's Euro-Atlantic aspirations and forcibly return it back to the Russian orbit.
Talking of the harm Russian aggression has caused in the entire Caucasus region, Nugzar Tsiklauri Chairman of Diaspora and Caucasus Issues Committee stressed that the main point of the national security concept is to ensure territorial sovereignty and democratization processes in Georgia. Emphasizing the importance of the document for defining the main strategies and plans for the country, Ako Minashvili, Chairman of the Foreign Relations Committee called it "a fundamental document." Paata Davitaia, Deputy Chairman of Parliament, from the opposition party European Democrats, highlighted the engagement of opposition in working out the national concept. "Our political union actively participated in the process and I will definitely support the document [for final adoption at a parliamentary session]," said Davitaia.
The draft outlined the country's fundamental national values, national interests, threats, challenges, the major directions of Georgia's national security policy, and foreign policy priorities. The strategic document is oriented towards integration into Europe, deepening strategic partnership with the United States, strengthening democratization process and economic development reflecting the course the country has been following in recent years. The draft concept expresses Georgian citizens' "firm will" to integrate into Euro-Atlantic structures and says that "membership into the EU and NATO is an important priority of Georgia's foreign and national security policy."