Ivanishvili Asked to Detail Financial Support for Political Parties
By Gvantsa Gabekhadze
Thursday, December 22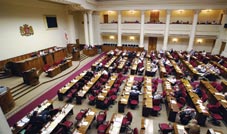 On December 21 the NGO Pure Politics sent an open letter to Georgian billionaire and politician Bidzina Ivanishvili, calling for explanations regarding the allegations of some politicians, voiced recently, that Ivanishvili was funding the political activities of several political parties.
The chairperson of the NGO Zurab Japaridze asked Ivanishvili to confirm or deny the allegations and if the report is true, then make clear which parties are sponsored from his funds.
"It has become topical news that Ivanishvili began to sponsor various political parties. This is an issue regulated by law and we believe that it is very important that society is provided detailed information. Therefore, in the second part of the address, we call upon Ivanishvili to confirm or deny this information, and if he confirms, then make it clear how much money has been given to particular political parties," Japaridze said.
The law regarding party funding is becoming stricter. For one thing, a new initiative laid out by the ruling United National Movement changes the initial meaning of voter bribery. According to the new initiative: bribing of voters can be direct or indirect suggesting of money, securities, other property, property rights or services, suggesting of other advantages, promises, delivering services, or making any deals to avoid legal restrictions.
Punishment will be strengthened for such kinds of violations: if such a crime envisaged one year detention, according to the new initiative this will grow to three years. If a legal entity commits such a crime, it will be liquidated, fined or lose the operating rights.
The situation will also be very hard for political parties if they decide to receive a prohibited donation. Based on the current law, if a donation is more than GEL 5,000, the fine is to be GEL 1,000-1,500, in case of receiving more than GEL 5,000, the fine consists of GEL 3,000-5,000. According to the changes initiated, if a political party gets such money, that sum will be directly sent to the state budget and the party will have to pay ten times more than the original sum they tried to get through illegal means.
The Georgian authorities claim that the changes in this regard are based on international recommendations. As Georgian Parliamentary Speaker Davit Bakradze mentioned, in the summer of 2011, representatives of the European Council Anticorruption Committee visited Georgia. "They are working regarding money laundering issues and some other cases in this regard, they had a number of recommendations and they are reflected in the parliamentary initiatives," the parliament speaker said, and also mentioned that the law is not adopted yet and the parliamentary majority is ready to talk to opposition and NGOs concerning the changes.
Financing of political parties is a very important issue for all sides intending participation in the elections. The issue has become more pressing after Georgian billionaire Bidzina Ivanishvili entered the political arena. Ivanishvili's team emphasize that all main changes and restrictions carried out in the law are "to the benefit of the authorities in fright due to Ivanishvili's appearance" and not to the benefit of Georgia or "Georgia's integration with European standards and recommendations made by international organizations."
Opposition parties, as well as some NGOs such as Pure Politics, which are not allied to Ivanishvili claim that the businessman has already allocated and given money to other opposition parties. The response to these claims is that this is quite natural. Zviad Dzidziguri, leader of Conservative party, says that, "there should be nothing surprising if Ivanishvili financially assists those parties with which he collaborates."