Political Parties Tight-Lipped On Funding Issues
By Gvantsa Gabekhadze
Friday, December 23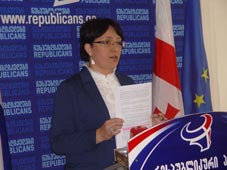 Financing of political parties and some changes in the election code regarding the issue have been named as the main themes of Georgian politics recently and the root of disagreement between different political forces. Several official statements regarding "mysterious or real financers" were made on December 22 together with some open criticism amongst opposition groups.
After several days of "hints" that several opposition parties are being financed by Georgian billionaire, Bidzina Ivanishvili, an official statement was made by one of the leaders of the Republican Party, Tina Khidasheli, where she confirmed this information. As Khidasheli, who is a lawyer by profession, mentioned, the party received money only within the law: "Bidzina Ivanishvili, a physical entity, who is not a citizen of Georgia, is not sponsoring our party. Republicans have never violated any law and we'll never do so. As for getting assistance from legal entities, for example a company founded by Ivanishvili, we confirm - yes, we are taking funds from legal entities and if Ivanishvili is the founder of those companies as well as Kakhi Kaladze [Georgian footballer and shareholder of the bank] then we confirm that we are being financed by them," Khidasheli said adding that the parties have always been funded and will also be funded in the future according to legal means.
Khidasheli did not comment on the financing of some other parties allied with Ivanishvili however a comment was also made by Our Georgia-Free Democrats. According to party representative Viktor Dolidze, society will get information on this topic in February as is envisaged in the law: that is "when all parties including the National Movement are obliged to represent their financial activities. We have never violated the law in this regard and society will be fully informed about our finances."
Those opposition parties, which stand far from the Ivanishvili's political organization, claim that parties taking money from the businessman are using him for their own purposes. A first official statement was made by the leader of Christian-Democratic Movement, Giorgi Targamadze. concerning the issue: "I personally see it very clearly that Ivanishvili`s dreams are being transformed into the dreams of the Republican Party and the Free Democrats led by Irakli Alasania, to win seats at the parliament of the next election and form their own factions."
He also mentioned that there might be some disagreement within Ivanishvili's political organization regarding the increase in the number of MPs: "in the format of the [former opposition bloc] the Opposition Eight, the Republicans and Free Democrats agreed with the growth of MPs, however, later they changed their mind, either they do not realize what they are doing, or there is some disagreement," Targamadze said.
The government suggests that political organizations like that founded by Ivanishvili are short term and unsuccessful. As majority representative, MP Nugzar Tsiklauri said, the rating of all opposition parties changed with Ivanishvili's appearance, "however the rating of the National Movement has not changed, as is obvious, the values of the National Movement are not dependent on any rich man's political ambitions." At the same time, Tsiklauri underlined that "all should do their best to make black money minimal in Georgian politics."
Georgian NGOs also commented on some changes in the election code regarding financing parties. Based on the common statements created by the Georgian Young Lawyers' Association, International Transparency Georgia and ISFED, part of the changes are positive and foresee local and international recommendations, however there are shortcomings and obscure points especially regarding political parties and legal entities related to them: "based on the changes financial restrictions and obligations are made on legal entities related to the parties, including non commercial entities. The restrictions are made to legal entities as these entities influence voters through representatives or by some other figures to support or not support some political subject." As the organizations state such points are obscure and unacceptable and moreover opposes freedom of expression.