Minister of Health talks of achievements in the sector
By Salome Modebadze
Thursday, December 29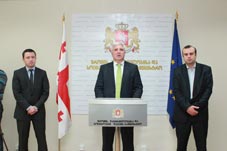 Minister of Labour, Health and Social Affairs of Georgia Andria Urushadze has summarized the achievements of the healthcare system in 2011. As the Minister said on Wednesday the Government's plan for developing the hospital sector has successfully started as there are now new clinics and multi-profile hospitals in most parts of the country. Emphasizing that billions of GEL have been invested in this direction, Urushadze welcomed the construction of 150 new high-tech clinics and hospitals based on European standards. Concerned about how people living in the regions used to spend money and time getting to the capital for treatment, the Minister said they can now go to the nearest hospitals in their regions.
Hospitals based on integral services are special in Georgia - multi-profile medical centres enable people to get qualified services in one space. Although people were concerned that the new hospitals would be too expensive for them, the Ministry of Health claimed that they are quite popular with society specifically because of their accessible prices.
Moreover the number of people with healthcare insurance, according to the Minister's report, reached a million and a half throughout the country. While in the frames of President Mikheil Saakashvili's initiative, this number would increase still further. It was in November 2011 when Saakashvili promised to increase pensions to GEL 140 for people above 67 from September, 2012. This package would include GEL 125 of pension money and GEL 15 for insurance.
The insurance package will unite a variety of services. The state will cover 20% of planned operations and 80% of urgent operations, as well as 50% of medicines up to a GEL 200 limit. The package will also allow free blood and urine analyses. At the same time a special package will be offered for every child from 0 to 5. This, according to the Healthcare Minister, would increase accessibility of insurance.
Implementation of a laboratory cell in 2011 by opening a central referral laboratory for public health was also highlighted in the Minister's report. An agreement signed with company Microsoft to develop licensed informational technologies in the systems of healthcare and social protection would improve the Ministry's activities. Having moved to an electronic documentation system it has become possible to unite all information concerning the medical sector and improvement of the quality of medical services.
Promising to ensure the sector's "transparency, simplicity, accessibility, fairness, confidentiality and timeliness" the Ministry of Healthcare said they would return street children to their biological families for normal integration in to society. As for homeless children, they would live in family-type homes instead of large orphanages thus being made to feel more at home in a caring and loving environment. Stressing that the healthcare system remains among the most important priorities for the country, the Ministry of Health will still be actively engaged in the implementation of state-important reforms in the country.