Positive outcomes of 2011 for IDPs
By Salome Modebadze
Friday, December 30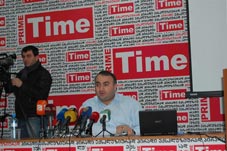 The Minister of Internally Displaced Persons from Occupied Territories, Accommodation and Refugees of Georgia, Koba Subeliani, spoke to the media of the successful projects implemented by his ministry in 2011. 279 blocks of flats in Tbilisi and 375 in the regions for a total of 22,000 families, and GEL 10,000 worth of compensation for 5,517 IDP families, were given in total to IDPs from Abkhazia and South Ossetia in 2011. Healthcare, construction activities and the rehabilitation process of buildings in different parts of the country are still among the main priorities of the Ministry for 2012.
Promising to build and rehabilitate more buildings for IDPs the Minister said he hopes to settle another 10,000 families next year. Expressing his gratitude to the Ministry of Economy and Sustainable Development for giving old hospitals and administrative buildings to the Ministry of IDPs instead of selling them, Subeliani said these buildings had also been rehabilitated and distributed among the 28,000 IDP families.
Talking about the so-called "harmful process" of evictions from different buildings this year, Subeliani spoke of the terrible living conditions IDPs experienced in these buildings. "It was at the time seen as a very unpopular step by us if you recall, but we can now see the positive outcome. The negative press was because society wasn't well informed of the issue," Subeliani said, stressing that all those IDPs now live in better conditions with 24-hour access to gas and electricity. 12,000 families, according to the Minister, have individual meters and need only pay as much as they spend, instead of pooling electricity expenses with their neighbours.
With budget resources and the support of donations the Ministry of IDPs plans to make 2012 an even better year for refugees with hundreds of millions of GEL to be spent on new apartments. These buildings are to be given to the IDPs as property. As the Minister explained, they start each year with a particular amount of money allotted to them but the ongoing projects define the necessity for additional sources of funding. Stressing that the IDPs have been moved to places with higher working potential, Subeliani emphasized that many of them have succeeded in finding jobs in their new neighbourhoods as well as starting up family-run businesses. Minister Subeliani welcomed the fact that those IDP families which chose to move to the villages now earn enough money to support their families themselves.