Happy New Year from Tbilisi!
By Salome Modebadze
Friday, December 30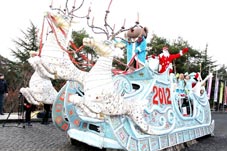 It's a warm winter's day - the end of December 2011. The streets of the capital are decorated for the New Year. Shops are full of presents, both for children and adults. People walking up and down the overcrowded streets are looking for last-minute presents for their family, friends and colleagues. The best presents for small children remain toys; teenagers prefer books, even jewellery or makeup; while women like getting flowers, perfume and chocolate. No one is without the perfect gift on New Year's, because there are a lot of choices for men too, especially in the newly opened shops around the capital.
Traditional Christmas figures - Santa Claus from Lapland and Georgian Tovlis Babua, having arrived from the farthest mountains, continue to meet with children at Mtatsminda Park. Children, looking forward to meeting their New Year heroes, tell rhymes and sing songs to the kind old men who will be staying at Mtatsminda castle till January 15. Happy to see the children, the two Christmas figures wish everyone all the best for 2012. "It's important to believe in magic; if you make a wish with your whole heart, your dream will certainly come true," says the smiling Tovlis Babua.
Mtatsminda Park traditionally offers various different activities to its visitors. Children can attend music concerts, dance with their favourite cartoon characters, watch pantomime and puppet theatre performances, and simply have great fun. The park's mascot "Bombora" greets everyone happily, promising to make their days brighter.
New Year remains one the most important festivals in the country. It's the time when people forget all of their worries. Most Georgians traditionally meet the New Year at home with their families, making toasts for a better future; whereas young people prefer to spend the time with their friends at open air concerts or discos; and others gather around the Christmas tree with their colleagues at corporate parties. Tbilisi City Hall has promised a lot of entertainment for the upcoming 2012. As Neka Sebiskveradze, Deputy Director of Tbilisi City Hall's Social Services and Culture Department told The Messenger, this year Marjanishvili Square will host a traditional open air concert on the night of December 31st with Georgian singers performing for the audience.
Santa Claus and Tovlis Babua walk up and down Marjanishvili Square from 12 p.m. inviting children and their parents to join the festival. The "New Year villages" in various parts of Tbilisi add a festive mood to the capital. Let us not forget though that even at this happy time of year there are people filled with sadness and despair, so let us hope that the New Year will fill them with hope for something better. And let 2012 bring light and hope to everyone!