MOF promotes user friendly webpage
By Salome Modebadze
Thursday, January 5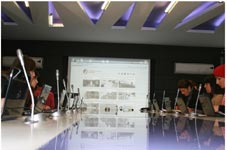 The Ministry of Finance of Georgia (MOF) has a new webpage where any interested party can get detailed information about the Georgian financial sector. As Minister Dimitri Gvindadze said at a presentation on Wednesday, the updated webpage would offer each visitor or taxpayer information about state control and audit, ongoing and planned reforms in the financial system, budget and macro-economic databases, tax policy and administration etc.
State Treasury, Revenue and Investigative Services, the Academy of the Ministry of Finance, as well as Financial Analytical Service of MOF are all available on the new webpage. A simplified form of navigation across mof.ge would enable any interested person to get answers to their questions in one unique space; an online consultation window where guests can get answers to their questions (although the answers would have no legal power, but simply be information). "This new, simplified form of the webpage with interesting information about various financial aspects will serve as a good guide for visitors [across the financial sector]," Gvindadze explained at the presentation.
Starting the new year with innovations, MOF also introduced to the media their new strategy for 2012. Promising to make the Ministry more transparent and accessible to the public, MOF is expecting significant growth of its budget this year. Macro-economic stability and promotion of the private sector to ensure the creation of more jobs remain among the main priorities of the Ministry.
Creation of a maximally profitable environment for developing the private sector would be of great importance for MOF in 2012. "The Ministry is ready to continue cooperating with the private sector to create new jobs and preserve healthy economical growth," said the Minister, highlighting the importance of cooperating with international financial organizations and donors supporting Georgia's huge infrastructural projects.
MOF expressed readiness to consider all the drawbacks the private sector may be facing with legislation nowadays. Promising to continue following the "liberal taxation course" towards the private sector Deputy Minister Rusudan Kemularia said the Ministry would identify the problems in particular sectors and even make relevant legislative changes to regulate the problems if necessary.