Analysis reveals economic situation in Abkhazia
By Ernest Petrosyan
Friday, January 6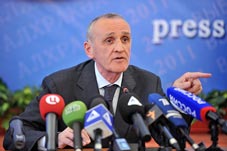 A recent poll conducted by the Centre for Strategic Survey under the de-facto Abkhazian President, revealed that 41% of Abkhazian residents are unsatisfied with the economic development rate in the breakaway region. About 34% assessed the economic development as satisfactory, and the rest abstained from giving any assessment.
When questioned on the main factors which undermine economic development 25% of the residents questioned related it to the corrupt system that exists in the region; 21% of those questioned consider the post-war consequences to be hindering economic development; 19% claim that absence of law and order is the reason and the remaining 14% attribute low economic growth to the de-facto government's weak participation in economic regulations.
As for economic priorities 27% of respondents consider that to be developing agricultural and tourism sectors; 12% gave their preference to industry; 11% to developing business, and the rest to service and trade.
The majority of questioned Abkhaz residents, about 71%, gave a negative assessment to the development of agricultural and tourism sectors due to the poor infrastructure.
The population is also unsatisfied with the local authorities. Only 31% are somewhat satisfied with problem resolution management.
The de-facto President Alexander Ankvab conducted his first session with his de-facto Vice President Mikhail Logua and Prime Minister Leonid Lakerbaia in 2012 dedicated to the financial outcomes of 2011.
At the session Ankvab ordered his government to control ministries and other government bodies to meet all planned targets by the end of the year.
He also asked tax inspections to improve performance. And in addition he asked the Finance Minister to provide him with information about credit liabilities.
"We will aim to work at a more efficient rate despite limited budget funds in this current difficult economic climate," said Ankvab.