Georgia's mission in Afghanistan loses another soldier
By Ernest Petrosyan
Monday, January 9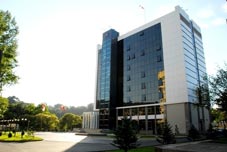 The Georgian Defence Ministry has released a statement about the death of the twelfth Georgian ISAF (International Security Assistance Force) mission soldier Corporal Shalva Pailodze, from the 31st infantry battalion of the 3rd brigade, who died as a result of fatal injuries serving in the Helmand province of Afghanistan. So far this is the twelfth death of a Georgian soldier since the advent of the Georgian mission in Afghanistan and the second death in as many weeks.
According to the Defence Ministry Corporal Pailodze joined the Georgian armed forces in 2008. He had a Medal for Participation in International Operation. The battalion was the first Georgian military unit deployed in Helmand to serve alongside U.S. marines in April 2010; during its first six-month deployment, the battalion lost five of its soldiers.
Despite frequent accidents over recent times the Georgian Parliament approved President Mikheil Saakashvili's initiative to send one additional infantry battalion to Afghanistan on top of the currently serving 936 Georgian soldiers as part of the NATO-led ISAF mission. As a result, after sending an additional battalion - consisting of 749 soldiers - Georgia will become the largest non-NATO contributor to ISAF with a total of 1,685 troops.
On New Year's Eve Corporal Besik Niniashvili from the 31st light infantry battalion of the third brigade deployed in the Helmand province of Afghanistan was also killed by a mine explosion, the Georgian Ministry of Defence said on December 31.
The Ministry of Defence of Georgia extends its condolences over the death of the Georgian soldiers and declares that the families of the deceased Georgian soldiers will receive a full package of social support determined by Georgian legislation.
Speaking to The Messenger military analyst Irakli Sesiashvili said that Georgia should continue its participation in international missions, due to its North Atlantic aspirations. He said however that the increase of the Georgian military contingent in Afghanistan should be implemented in accordance with the demographic and socio-economic realities. "Such important decisions should not be taken solely by President Saakashvili, who offered this increase to gain some political points and sympathies from the west," said Sesiashvili. "On one hand the Georgian military are gaining huge experience serving in Afghanistan, but on the other hand we should not sacrifice our defence system, since as the President says, the enemy is close enough. It is a regretful fact, and I extend my deepest condolences to the families of our fallen heroes," added Sesiashvili.