President opens new hospital in Gardabani
By Messenger Staff
Monday, January 9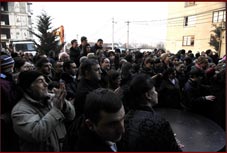 On January 6 another new hospital was opened in Georgia, this time in Gardabani. President Mikheil Saakashvili attended the opening ceremony. The new hospital will offer ambulatory, surgical, maternity and all other types of medical services to patients. The clinic is furnished with modern equipment and any surgery can be performed there. Over 50 people are employed at the new hospital.
President Saakashvili addressed the crowd that greeted him in the regional centre before opening the hospital. Saakashvili welcomed the people that had gathered to meet the President and mentioned that despite how some politicians think that people are specially ferried to such gatherings by bus, on the contrary the people gathered in front of him had come to meet him because they had seen the many great things that have recently been accomplished in the country.
"These hospitals are a clear projection of our idea of equality - that not just millionaires and billionaires, but all citizens of Georgia should have equal human rights and access to good quality healthcare. It is now possible to get medical treatment at a 'five star hotel' level of hospital with the help of our professionals. The new hospitals are equipped with technology similar to that in the USA, Brazil, the Netherlands, and France," Saakashvili stated.
According to him foreigners are often surprised by the fact that Georgia is doing all of this. They often ask where the Government finds the money, without having reserves of natural resources such as oil or gas. "We admit that we have none of the above, but on the other hand, we have no corruption either," the President said.
Saakashvili has talked openly about the group of politicians who are allegedly trying to return the country to the past and added that they are probably worried that they no longer have the opportunity to humiliate and extort money from people.
"Our people have seen the past and they know the value of the future very well. They will understand the value of a better life very soon because most of our children now study in warm, well-equipped and renovated schools. Our citizens get medical care in clinics that the citizens of countries ten times richer than ours can only dream about," Saakashvili said and emphasized that whereas in the past only privileged people had the opportunity to get medical care in good hospitals now everyone has this opportunity and can get medical care in newly built and well equipped hospitals.