Georgian Crew released by Somali Pirates
By Ernest Petrosyan
Tuesday, January 10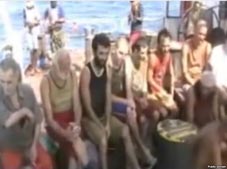 Fifteen Georgian sailors captured by Somali pirates have been released after 16 months of captivity. According to the Georgian Naval Transport Agency at the Ministry of Economy the health of the Georgian sailors is satisfactory, all released sailors are on a Georgian controlled ship en route to one of Africa's ports due to arrive on January 12.
"We will not be making any official comment yet. We want the sailors to get to their destination first. For their safety, while they are still at sea we will not be making any comment. We will release our first statement after the ship carrying the Georgian sailors enters the African port it is destined for," the Agency's press service said.
The agency's announcement gives no details about the negotiation process and release details, however the press service noted that no ransom had been paid to the pirates. They also reported that the released sailors must undergo a medical examination and immigration control before returning to Georgia.
The Somalia Report website however reports that the vessel with its 18 crew members (15 Georgians and 3 Turks) were released after the USD 3 million ransom was dropped on their ship.
An inter-governmental delegation of Georgian officials led by the Deputy Economic Minister Giorgi Karbelashvili was sent to Somalia few days ago to facilitate the release of the sailors.
"The case was under the President's personal control from the very beginning. It was a priority for him. Several international organizations, ship owners and the governments of several countries were involved in the case. I personally held a few closed and open meetings," Karbelashvili told Imedi TV during a telephone conversation.
President Mikheil Saakashvili, who has personally been monitoring the case, has talked with one of the released Georgian sailors, Memed Zakaradze, by telephone, the official website of the President's Administration says. The President congratulated the sailors on their release and noted that he was looking forward to their return to the country.
According to the President's Administration, Memed Zakaradze thanked Mikheil Saakashvili for his efforts in the release of the sailors.
According to him, the health of the sailors is satisfactory. They are currently somewhere in the Indian Ocean. They will arrive in Georgia on 16 January.
According to the aforementioned website, the pirates were initially demanding USD 9 million for the release of the crew and their ship, which at the time was reportedly anchored off Harardheere, a town notorious for being a pirate stronghold in Somalia.
A Malta-flagged cargo ship with fifteen Georgians and three Turks onboard was pirated in the Gulf of Aden off Somalia on September 8, 2010. OLIB G, owned by a Greek company, which reportedly went into liquidation early last year, and crewed by Batumi-based Georgian maritime crewing agency Greenwich XXI, was pirated when it was en route from the port of Alexandria to one of the ship breaking yards in India to be scrapped.